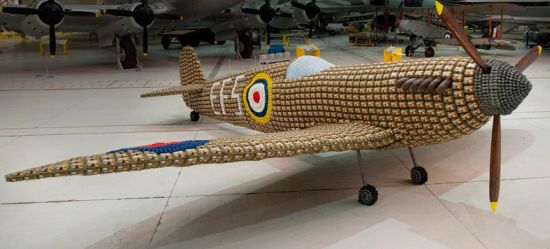 During the World War II, the Mark I Spitfire was one of the most menacing airplanes. Here, however, we are not talking about the real one but a full scale sculpture of the Spitfire created by Hackney-based sculptors Jack Munro and Charlotte Austen as a part of UK's help for Heroes "Operation Egg Box – Highly Classified" fundraising initiative.
Measuring 12-meter long and 13-meter wide, the Mark I Spitfire sculpture created from 6,500 eggs cartons for Eggs for Soldiers campaign – which is a long standing fund raising program to help war heroes – was featured at the imperial war museum in Duxford on March 3rd, 2013. The Spitfire replica is created using timber and steel framing and is divided into twelve separate parts that can be broken down for easy transportation.
The spectacular Mark I Spitfire replica from egg cartons for soldiers isn't a one day wonder or created in a week either. It took more than six weeks for two sculptors to cut egg cartons in shapes and then fix those using five liters of glue, 500 nails, 10 liters of paint and 10,000 staples to finally create the coherent whole of this full size egg carton Spitfire.
Via: Dvice / Designboom