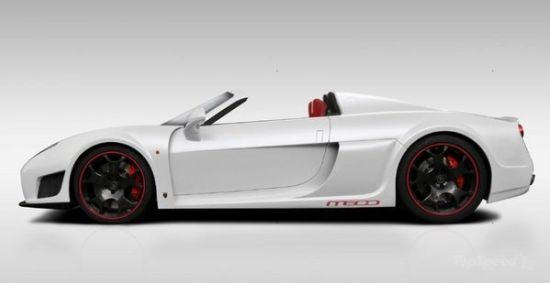 It has been more than a decade Noble Automotive, a British sports car manufacture, is in news repeatedly for their stunning sports cars that include M12 GTO, M12 GTO-3, M12 GTO-3R and Noble M400. The low production company doesn't have too many models under its belt to boast. With the intention to increase its model lineup (as it seems), the company MD, Peter Boutwood, officially reveals to Atfullchat at Pageant of Power event at Cholmondeley what is hopefully the first and the only image of the vehicle available.   
Just to inform you that it's the first drophead coupe from the brand and bears Noble M600 convertible badge. However, the image as per, Peter Boutwood, is a factory styling exercise and remained tightlipped about its entering into production anytime soon. He also indicated that if its existing or possible future customers will like the idea, the brand could find a fund and build this beautiful beast.
If the brand is to build the drophead coupe, it won't be technically too herculean to its engineers to pursue the conversion. If it enters production ever, it'll feature steel and aluminum racing-car style chassis, a combination of 650bhp V8 and a top speed of 225mph. The renderings of the convertible looks cool and its performance figures are good. It will be an amazing car to own. We'd really love to see it on road one day.
Source: Atfullchat  Via:  Topspeed