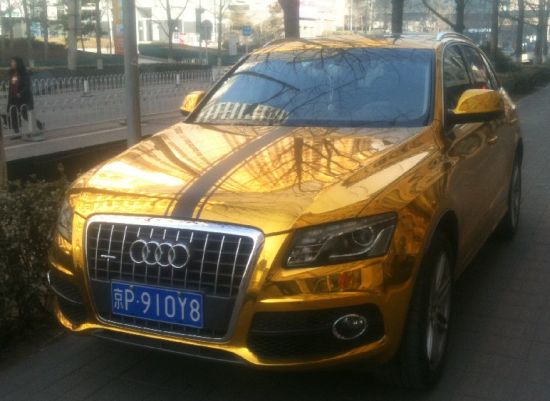 The recurrent appearance of gold plated cars in the streets across China at least attests one thing that the country has got immense economic boom. The gold plated cars are becoming less uncommon with each passing day. There are hoards of them, spotted sometimes here and sometimes there. Here is just another addition to the long list and this time it's Audi Q5 SUV.
Spotted in the street of Beijing on a dusty morning, the gold plated Audi Q5 SUV shines like a diamond among the cars. The gold wrap is of high quality and covers the SUV from bumper to bumper; even the mirrors and bumpers are brilliantly wrapped in gold. The Audi Q5 in China is a joint venture of FAW-Volkswagen and pricing starts from 347.500 yuan and goes up to 567.700 yuan.
Dipped in gold and added with black racing stripes for bling speed, the price would have surely doubled if not tripled and only those with deep pockets can pursue such a makeover on an already priced car like Audi Q5 SUV.