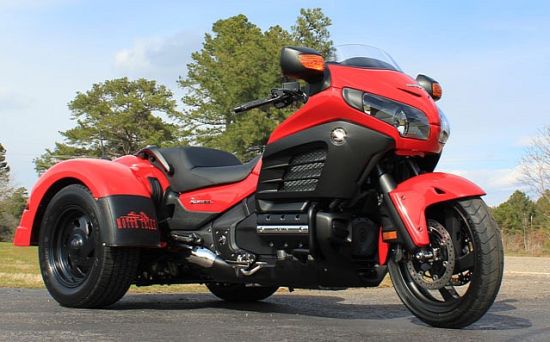 It's almost a month Honda released the F6B bike. However, the aftermarket specialists at Motor Trike have come up with a kit that marks the conversion of F6B bike from a monstrosity on two wheels to three wheels. The Honda F6B trike kit is all new and makes the bike in avatar even more intimidating down the lane.
The kit that makes your beastly F6B even more evil machine on road includes independent rear suspension, air side suspension; over four inches of suspension, on board air compressor and to bring it to a halt Motor Trikes adds integrated disk brake system. Additionally, there is also a 12 volt power outlet in trunk and it rides on chrome steel wheels.
The basic kit costs $8,395 in retail and Motor Trike guarantees that the Honda Gold Wing F6B Trike has no parallel in the market. Apart from this price tag for the kit, there are hoards of other features available if you have that bit extra money in your pocket to support your desire. The deliveries will start in April this year, so those of you interested souls who want to burn the asphalt in style start sparing extra cash.
Via: Autoevolution