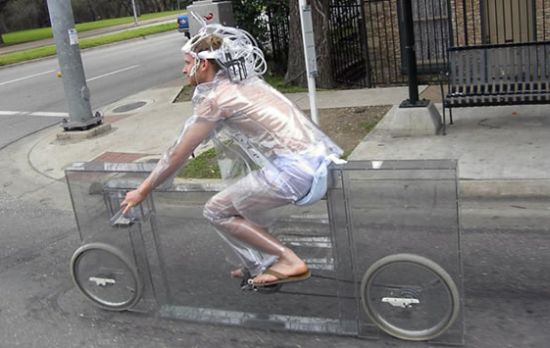 Bicycles have undergone considerable changes since their inception. The evolution of bicycles is marked with less heavy, durable, folding, pedal electric hybrids… to support the needs as per environment. It's a known fact that bicycle is the most eco friendly mode of transportation and it also keeps you healthy.
However, here is a new bike altogether, Fuck Bike or the  invisible bike. The brainchild of Jimmy Kuehnle, the invisible bicycle is a new paradigm the way an avid bicycle lover commutes. Yes, you read it right. It's an invisible bike, with chain and bearings only visible body parts.
Created using Lexan or what we call as the bullet proof glass, the bike, as per the creator, stays between sculpture and transport. On the top of this, the outfit shown here – consisting invisible clothes and helmet – compliments the invisible bike. The complete package shows the denizens of Austin and San Antonio all or nothing, since everything is invisible here sans rider's underpants.
Source: Jimmy Kuehnle