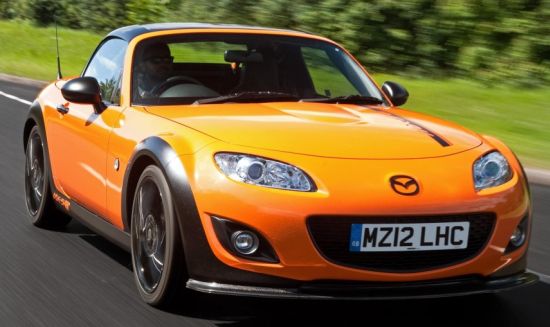 Mazda lovers at Goodwood Festival of Speed will get a chance to see the street legal MX-5 GT concept climbing the hill. Mazda aims to use the event to get user reviews about its famous roadster that's been in the market for more than 22 years and has been a heartbeat of millions.
The hotter version of the sports car is inspired by Mazda's MX-5 GT race program which is taken to next level by Jota Sports, UK specialists, who has made it produce 205hp instead of 158hp from the normally-aspirated 2.0 liter engine, aligned with standard manual gearbox.
The fans at the Goodwood festival of speed will get a chance to closely examine the vehicle and they will find this beautiful car embellished with Recaro racing seats and some other amazing features that include diffuser and spoiler at rear end, splitter at front end and black-on-orange color scheme the make the coherent whole of this car.
Apart from this, MX-5 GT concept will come up with upgraded suspensions for better handling that are also made adjustable to meet varying track conditions, center mounted tailpipe exhausts and too many carbon fiber parts that reduce more weight from this already lightweight car.
MX-5 GT concept is to be place with Jota Sport MX-5 GT4 at the Goodwood festival of Speed wherein the latter is dubbed the world's fastest as well as most powerful MX-5 with a 0-60mph sprint time of three seconds and a top speed of 160mph.
Via: Paultan