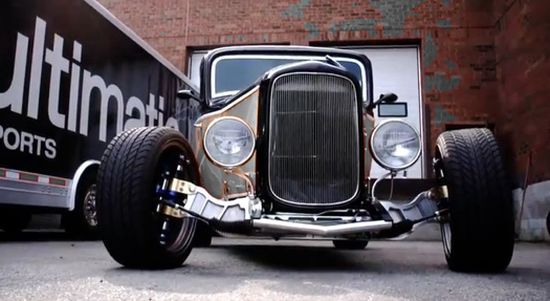 From streamlined speed machines to light-to-light drag racers and open road cars, we have seen 1932 Ford serving as platform to various hotrods, which attests the fact that it is the most favorite among the customizers across the globe. Here is just another creation on the same platform and that makes it the most advanced hot rod ever created.
The one here in question is something that even Henry Ford couldn't possible have imagined in his wildest dreams.  Multimatic-designed – having specialization in advanced suspension systems — has come up with an in-wheel suspension system which is sheer one-of-a-kind. The suspension system hides everything in the wheel hub with the intention to make everything lightweight and compact.
The all-new multimatic designed 1932 Ford hot rod featuring a peculiar in-wheel front suspension not only makes it one-of-a-kind but also the most advanced hot rod ever build.
Via: Chromjuwelen