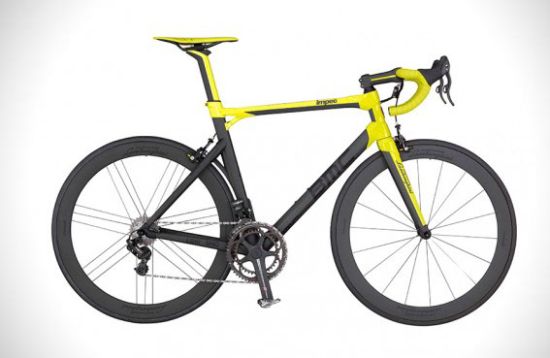 Lamborghini celebrated its 50 anniversary by unveiling Veneno supercar in 2013 Geneva Motor show. However, the party doesn't seem to be over yet. The Italian supercar maker has introduced a Lamborghini Aventador on two wheels to take the celebration to next level. The collaboration between the Italian supercar maker and BMC, the Lamborghini Impec Bicycle is the cheapest Lambo that you could own for just $32,000 (EUR 25,000).
The high end road bike from BMC takes inspiration from Aventador and carbon fiber is extensively used in its construction to make it as lightweight as possible. On the top of this, high end Italian leather is used for making  its accessories. The bike's overall looks owes much to BMC's frame building technique and is finished with a unique paint job to come out as the most exclusive impec bicycle yet.
Featuring the details, precision, and above all, style of a Lamborghini Aventador, the BMC-Lamborghini bicycle will be built to the orders and in a limited run of 50 units around the world.  You can order the bicycle, in a similar way as Lamborghini, from the local Lamborghini dealerships or from BMC dealer network.