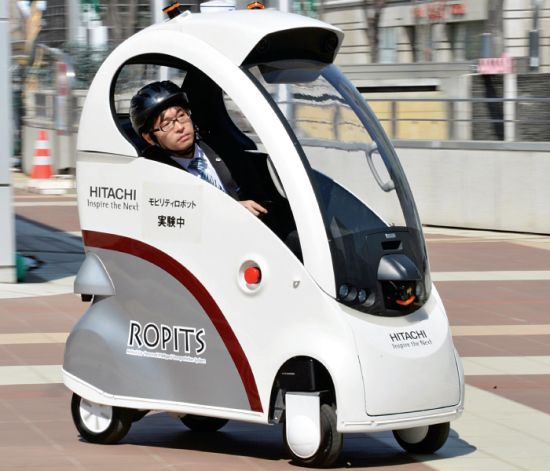 Japanese company Hitachi reveals Ropits (short for Robot for Personal Intelligent Transport System) to pick up a person from point A and drop him on B autonomously. The move is considered as one step ahead to Jeremy Clarkson's personally designed robotic car showed on the Top Gear's recent episode. Clarkson's P45 car was described as the world's smallest at that time. However here is its challenger even before Jeremy could materialize his.
The Ropits– the one man mobility robot car was unveiled in the city of Tsukuba in the Ibaraki Prefecture. The robot car is capable of driving its occupant to destination without a hinge. In case of emergency; the rider can take the control of the car and can steer it to the destination using a joystick controller in the cockpit.
Robot for Personal Intelligent Transport System is created to help people who are somehow find it difficult to walk. The Robot car is small enough to move automatically or to be steered easily through the pedestrian spaces. What makes Ropits maneuver easily thought crowded pedestrian system is, of course, its small size and supporting it further in its movements is GPS that helps it find its way, laser distance sensors that look for obstacles ahead as well as a gyro sensor that keeps it upright on the bumpy lanes. On the top of this, it also has active suspension that not only controls each wheel individually to make its movements smooth on curves and uneven roads but also keeps passenger upright comfortably.
After getting in through a front hatch, all the passenger needs to do is to locate their destination on the touch-screen map and Ropits will drive them there automatically yet safely. Anyone from in the city of Tsukuba who is willing to have a ride can call for Ropits vehicle from any number of computer networked 'stops' dotted around the city.