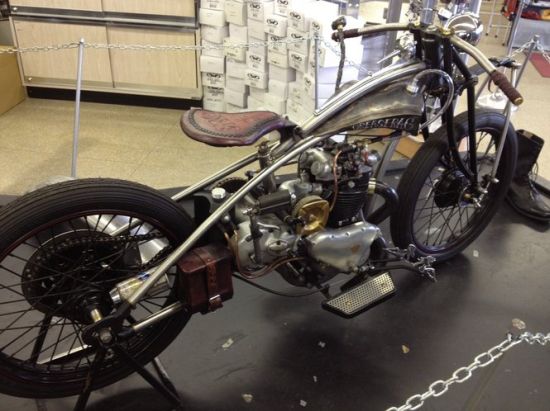 If a custom bike features parts from various autos and other things unrelated, it is doomed to lose some sheen look wise. However, not the one we are going to introduce you with. The customized bike comes from Grease Rag Customs and was featured on the cover story of internationally circulated magazine, The Horse.
The custom bike is peculiar not only for it features auto parts but parts that are unrelated. Well, before we discuss that part, let me tell you that this bike comes from Grease Rag Customs that comprises a crew of three: Bill Weidenhammer as tuner, Pat Knight as metal fabricator, and Jeff 'Fish Bailey' as apprentice. The bike is the first one from Britain owned by Rob VanGorder who is the founder of Grease Rag Customs, 2101 S. Saginaw and Flint.
He rode it for five years and depreciation in bike parts made him think of overhauling it but in a different way. As a result, this unique bike features car parts collected from various sources. The lights for the Flint custom motorcycle come from airplane, while an old flashlight and a Triumph beer can complete the rear taillight.
Further, the Flint Custom Bike borrows its front wheel from a dirt bike and its front leaf spring from a Chevy. One unusual part used is Angelo's ashtray which has been donated by a women. It's not only the bike offers elegant ride but is party friendly too and features a cork hidden under the customized seat that allows you to pour alcohol that you can dispense through a spigot at the end of a tube. The new paint, leatherwork and gas tank completes the coherent whole of the Flint custom motorcycle.
Via: Mlive