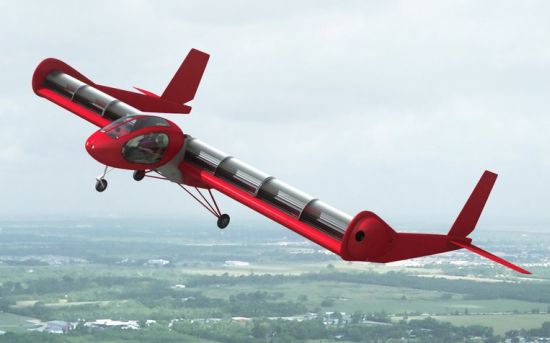 Ever since Wright brothers provided wings to humanity, we have seen aircrafts going through various changes for better. The aircraft design you see here is from FanWing – a British company that does lot of its work in Italy and run by US born inventor, Pat Peebles and BAE System Principle Concepts Engineer, George Seyfang.
In the words of the creator, FanWing is a new technology that provides a new lift system, which enables the aircraft to take a high lift at low speeds. Unlike modern day aircrafts that use jet engines or rotors, FanWing uses huge rotating fans, housed in the wings, for lift and propulsion.
FanWing aircraft's wing incorporates cylindrical turbines that are spun by conventional engines. The turbines pull the air in at the wing, thus providing FanWing forward thrust and lift. Since FanWing, gets lift from engine power; it could instantly take off and is stable at high flights, even if there is turbulence.
The aircraft is to be equipped with Rotax 912 engine and needs merely 50ft to take off. The other major specifications of the FanWing include a rotor span of 32ft and its diameter at 30-inch, empty weight of 770lb and its flight speed ranging between 20 Kts to 70 kts.
An entirely new aircraft design, FanWing's human-sized version is to see the light of the day approximately in January 2013. The flight tests are to go until June, followed by its first public demo in July the same year at Oshkosh EAA AirVenture event.