While you drive through the meadows in your golf cart, imagine a wheel-less car zooms by you at a speed that's three times more than yours. Now, that's the magic Bubba's Hover aims to create! As the name suggests, you will spot golfer Bubba Watson in his special mean machine that would enthrall golfers with its class and style.
The eyewear and apparel maker Oakley collaborated with Bubba Watson to release a viral video campaign. As soon as Watson signed on the dotted line for campaign, Nathan Strange, the company's marketing head came up with this idea that has garnered above six million likes as of now. This further fixed Oakley's desire to enter the hovercraft manufacturing business.
The BW1 golf cart can slide over grass, sand, and water. You will no longer have to wait thirty yards away from the grass or halt your game during downpour. "The biggest advantage to the hovercraft is that it has a foot print pressure about 33 times less than the human foot," Chris Fitzgerald of Neoteric Hovercraft quipped in while explaining the hovercraft.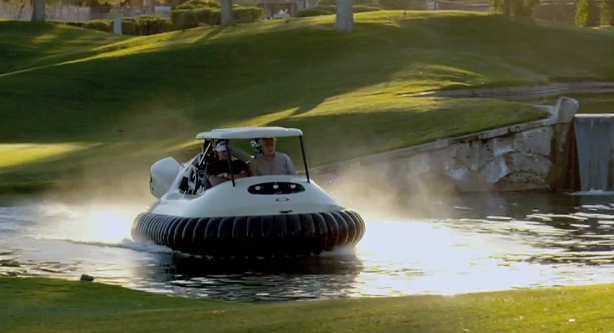 The company has received around five hundred calls out of which at least 150 were quite serious in bringing the hovercraft in corporate arena. Being skeptical due to the fact they are the new entrants in this business, Oakley may partner with Neoteric to satiate the increasing demand and sell them at $16,000 to $20,000 a pop. But the credit for the stunt goes to the agency Thinkmodo.
Being the first ever golfer t ride on the new age golfcraft, the 2012 Masters champion Bubba has garnered extreme popularity. The critics may now start lashing out why the golfer, who has successfully thrown himself out of the top 35 PGA golfers list owing to his total income of $767,300 and 356 FedEx Cup Points, is diverting his focus away from the game. He seems to have been more concerned with his high tech hover, though the YouTube viewers are really not complaining.