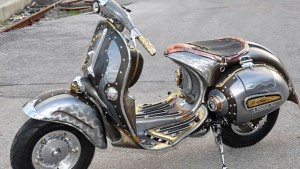 Introduction
Vespa is a world famous Italian scooter brand, which has created a milestone in the history of scooters with their iconic designs, which are simple yet unmistakable. All over the world, Vespa is not only famous, but also adored for their unique scooters, which has also become their trademark symbol. However, over the past few decades, the design of Vespa has been distorted in every possible way in so many times that consumers rarely get to witness anything out of the ordinary.
The intent
With an effort to bring out a revolution in their trademark scooter designs, Pulsar Projects took the initiative to present the new Vespa Guardian, which stands out of the crowd with its unique steampunk Vespa design. Famous Greek sculptor, Cofitis Cris is the main artist behind this revolutionary design of Vespa and he created this artwork keeping in mind every small detail involved with the scooter and also preserving the classical lines of Vespa at the same time.
The design inspiration
The new steampunk style is a great initiative from Vespa to deliver a new taste of scooter to the new generation consumers who are still loyal to this brand. However, in its attempt to bring out a completely new scooter, Vespa has still maintained some of their signature styles in order to exude their classical patterns combined with the new ultra modern art works. Therefore, even if Guardian does not stand in the crowd but with one glance you can easily guess which historical brand has brought this to the market.
What makes it stand apart?
The new steampunk style of Guardian is actually a combination of science fiction and fantasy. In this masterpiece by Corfitis, he tried every way to make the perfect synthesis of mechanics as well as art and therefore, the result is undoubtedly awe-inspiring. According to various reports, the new Vespa Guardian is already attracting an unbelievable amount of media and consumer attention and has been predicted to become the new favorite of the scooter lovers very soon.