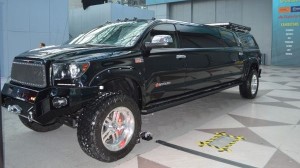 Every time we spot a limousine on the road, we are in awe of the sheer size and the luxuries it has to offer. Devolro has put on display its own version of off-road limousine at this year's New York Auto show. For those who have been fans of Hummer for years, Devolro has an alternative on offer.
The Beauty
The limousine is not one of those elegant cars that talk about how aerodynamic they are, but is a one that talks about masculinity. Dressed up in glossy black metal, the car portrays itself as a force of its own. The features that accentuate its tough look are its steel bumpers and all-terrain tyres. Of course, it offers all luxuries you expect from a limousine, i.e. LCD panels, audio system, leather seats and a mini-bar.
The Beast
Just like its smaller counterpart Diablo, it is based on the stretched-out, jacked up Tundra platform that make it stand out from the rest. While most of the off-road vehicles have concentrated on being manoeuvrable, this beast from Devolro doesn't seem to care at all. Its sheer power and massive size gives it the confidence to overcome any obstacle or terrain.
The Thrill
The model put on display at the New York Auto Show is first of its kind. The official specs are not out yet, but it won't be a surprise if this one supersedes Diablo that churns out 381 hp. Moreover, the thrill it offers is not in terms of speed but its ability to conquer any sort of terrain while offering the luxuries of a limousine.
What's Different?
Devolro is offering a first off-road limousine of its kind. While some suspect it to be a highly impractical car, Devolro itself seems to be practical about the numbers it can sell in a year. The company expects to sell about 20 such models in a year with potential buyers belonging to the elite category, including political leaders or celebrities. Of course, this means it is a no cheap toy to own and buyers will have to shell out $380,000 to own one.