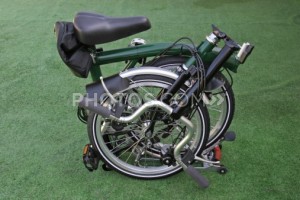 The demand for folding bikes is seeing an upward trend for countless reasons. Right from being environment friendly to helping us work-out in real sense, these bikes are finding more takers in recent years. Most importantly, these bikes allow us to ride through heavy traffic quite easily saving on time as well. So, here are some of the best folding bikes you could consider buying.
Bendy Bicycle
This award-winning folding bike is the creation of Kevin Scott. The ultimate objective of designing this bike was to protect it from being stolen. Apart from this, the Bendy Bicycle can be easily parked and does not occupy much space as well. Equipped with an excellent yet uncomplicated ratchet system, the bicycle's frame is quite flexible.
Mercedes Benz Folding Bike
Mercedes-Benz, one of the most established car brands in the entire world, has also ventured into the bicycle market. Take a look at this folding bike from the car maker and you are sure to get surprised! The bicycle is ergonomically designed keeping users in mind and it is developed using some of the most sophisticated engineering techniques in the world. Measuring 800 x 800 x 280 mm, the bicycle's tires easily come together and make it highly compact.
A-bike City
If you want the best compact bike in the world, consider the A-bike City. This folding bike has been designed by Sir Clive Sinclair with the aim to fold and keep the bike in a rucksack. Considered best for urban commuting, this bike has a remarkable telescoping frame that shrinks to around 25 percent of the original size. Further, its twin-chain system allows one to travel as much as 10 feet per crank rotation.
IF Mode Folding Bike
All it takes is 20 seconds for someone to fold and unfold this compact folding bike from Pacific Cycles. Amazing in terms of engineering and design, the bike has outstanding features including a 2-speed drive, large sized wheels and an elegant design as well. If you want to reduce your carbon footprint, go for this folding bike to commute within the city.
Brompton S2L Folding Bike
Equipped with a 2-speed derailleur and 3-speed hub gear, the Brompton S2L Folding Bike is the perfect UK product you will ever come across. One look at it and you are sure to get spellbound. Measuring 58.5 cm x 54.5 cm x 27 cm in dimensions, this folding bike has really got an innovative and compact design. Not only is it portable, but also promises a smooth ride while you are commuting in the urban landscape.