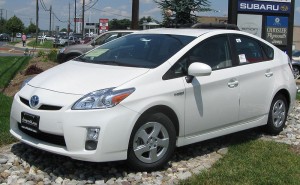 The world around us is gearing up to embrace a greener tomorrow. Be it cars or houses, the word green has found its way into every aspect of our lives. Tech minds are working hard enough to come up with green answers when it comes to racing. Discussed below are five green cars, especially meant for racing!
Toyota Prius
Resembling a Sedan, the Toyota Prius in fact is a racing car. This hybrid car is powered by both gasoline and an electric engine. Its bio-chassis has been crafted using ramie and kenaf, some of the most well-known agro products. So, why is the car touted as eco-friendly racecar? Well, it's manufactured using plant-derived bio-plastics.
World First F3
The credit for building this green racecar goes to the genius minds from the University of Warwick. So, what makes this car so special? Well, its body is crafted using potatoes, the steering wheel from root of carrots and vegetables and most importantly, it runs on chocolate. Strange, it seems! The car is made entirely from biodegradable materials to cause minimum harm to the environment. The seat comprises of flax-fiber and soya bean oil foam. The car is fuelled by waste chocolate and vegetable oils. Wondering how does the car perform? Well, it can race up to 125 mph.
Lucky Punk Race Car
Brainchild of Andre Costa, this racecar is powered by a magnetic engine. So, what's so unique about this? Well, because of the magnets, the car's engine is nearly five times more powerful than the normal ones. This car, indeed, is the perfect example of an eco-friendly car because it does not emit any harmful gases. Thanks to the magnetic energy stored in its electric batteries. And, the tires are made from bio-rubber and mushrooms.
AEGT01 electric race car
Electric batteries power this racing car from Quimera. Its Lithium Polymer EIG batteries help provide a 1000 lb torque and take the car up to 180 mph. The electric car has some of the best UQM motors that generate around 700 horsepower. Since it's an electric car, there are no emissions involved.
Green GT
Planning to win a race using an environment friendly car? Well, then go for the Green GT which is powered by two electric turbo engines that generate as much as 400 bhp. The GT is capable of achieving a top speed of 171 mph and consists of a liquid-cooled battery and a sophisticated fire suppression system as well. Apart from this, it also has a Flameproof Shock-absorbing enclosure.