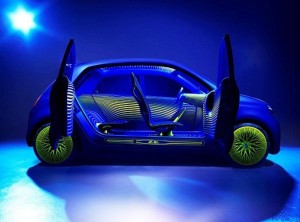 Renault launched its new design strategy back in 2010 under the direction of designer, Laurens van den Acker. The design strategy cantered around the concept of cycle of life. Each concept car represented a step of human life. The first one named, DeZir was about falling in love, Captur symbolized exploring the world, R-Space was about starting a family and Frendzy, the work phase of life. Twin'Z is the fifth concept car in this line that symbolizes fun and play. Renault collaborated with famous designer, Ross Lovegrove to create this concept.
The Beauty
Twin'Z is clear-coated in sparkling Blue that gives it a velvety matte-gloss look. Lovegrove has given a minimalist interior design that aims on cutting down weight and maximizing the space. The city car boards the pillarless concept, which in turn gives it a singular landscape. The seats are upholstered in 3D woven textiles that are waterproof and flame resistant. The concept of 3D printing is translated to the rims, designed by using parametric modelling. The lighting in the car draws its design heavily from the organic elements and boards different LED panels to do so. The overall effect seems to give Tron-like touch to the vehicle.
The Beast
The rear-wheel drive comes with a rear mounted electric motor that is powered by lithium batteries capable of generating up to 96 volts. This translates to a power of 68 hp and a torque 226 Nm. Twin'Z, being a city car, doesn't boast of power, but aims at being efficient.
The Thrill
The concept car's top speed clocks at 130 Km/h (80.7 mph). It boasts of its aerodynamic design and comes with a high waistline and low stance. Its 18-inch low-profile glowing-green wheels are pushed out to the corners.
What's Different?
Its funky design, neon-infused interiors, and stunning visual features make it one of the most attractive concept cars. The overall car is as much of an art form as a vehicle that aims at maximizing the footprint.