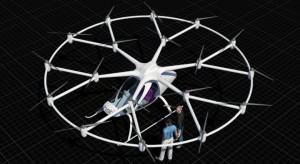 The brainchild of Thomas Senkel that earlier won 2012 Lindbergh Prize for Innovation has now been updated from 16 spinning motors version to an 18 motors aircraft. The Volocraft can now board a pilot and a fellow passenger. The pilot now can sit below the spinning blades and steer the aircraft up to a flight time of one hour. Yes, it does look like one of those sci-fi aircrafts that boards spider's web like structure over the top with spinning motors at each node.
The Beauty
Volocraft is a very new concept that certainly looks like the future of air travel. What make vertical take-off possible are its 18 spinning rotors placed above the cockpit. A high level of manoeuvre is assisted by varying the revolutions per minute of different motors at a time. The carbon fiber blades are paired with their own motors and propellers arrange in two concentric circles.
The Beast
VC200 can bear takeoff weight of 990 pounds, however, current battery technology offers an impractical flight time of 20 minutes. To overcome this limitation, the aircraft uses combustion motors as range extenders by powering a generator that in turn supplies the electricity to its motors. This helps it to push its flight time up to one hour.
The Thrill
The two-seater volocopter can catch up to 100 Km/h at a minimum flight altitude of 6500 ft. Though the initial version of the aircraft placed the pilot above the spinning rotors, this updated version intends to provide a cockpit below the blades. We don't know if it was more fun the other way, but it seems safer below the spinning rotors.
What's Different?
Volocraft is a totally new concept that does not belong to any existing aviation category. It can be extremely useful in revolutionizing short distance transportation, though the fact cannot be denied that is has a long development path ahead.