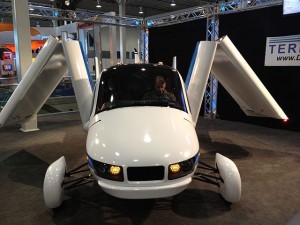 What if you were being followed on the road and your car suddenly spread its wings turning into a lightweight aircraft at the tap of a button? Yes, it certainly sounds like some science fiction or one of those autos from James Bond movies; however, if you go back in time, you might remember Terrafugia Transition that made headlines at the 2012 New York Auto Show. The roadable aircraft has been in development since 2006.
The Beauty
The key to design of Transition are its foldable wings that are stowed inside the cockpit while on the road. The same gull wings can be extended while hitting the runaway at the airport. The hybrid vehicle can board two passengers at a time and will be history's first street-legal flying car.
The Beast
Transition is powered by Rotax 912ULS piston engine that can churn up to 100-horsepower. It might be advertised as a flying car but it won't fit in certain car parking spaces. So, your standard household garage might be a good bet.
The Thrill
You can fly up to 500 miles at a cruising speed of 105 mph and maximum speed of 115 mph. It's on road maximum speed is not too bad at 105 mph. It can take payload of up to 210kg at a fuel efficiency of 35 mpg. However, the most thrilling part is not its speed or power, but its ability to spread its wings and fly away.
What's Different?
We have seen dozens of flying car concepts since last decade, but none of them could be manifested into reality. Transition will be the first flying car that will become reality. It has obtained VIN from National Highway Traffic Safety Administration and has been cleared by Federal Aviation Administration as well. However, you still have to wait for more than 12 months for the company to start production. In case you're interested, it comes at a sticker price of $279,000.