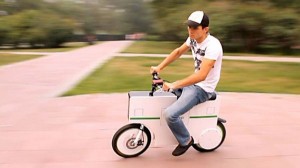 Few years back, Yuji Fujimura impressed us all with his concept electric bike Version 2. Now, inspired by the same concept, we have yet another eco friendly solution to personal transport, dubbed Zeit Eco. The multifunctional e-scooter is a portable, compact vehicle that you can use as a mode of transport in parks or work facilities.
The Beauty
The scooter comes with removable side panels, which can be used as a canvas to display your creativity to the world, or for advertising and promotions. You can travel safely in the dark thanks to its beautiful LED lights in the front as well as rear. Thanks to its unique form and ability to charge devices on the run, an attached USB port in front certainly tends to entice the teenagers. Teenagers can carry all their gadgets such as music players or tablets along with them. An in-built audio system further enhances the multimedia capabilities of this vehicle.
The Beast
The e-scooter boards a 350Wh LiFePo4 Battery and a 250-350W brushless geared hub motor that gives it a mileage of 16-25 miles on one full charge. The battery can be upgraded to a bigger one that gives mileage up to 75 miles. It takes 2.5 hours to charge fully and around half-an-hour to charge 60 percent of standard battery.
The Thrill
You can enjoy music while commuting thanks to its on-board audio system, though you cannot go beyond 15 mph due to safety regulations. Though the overall scooter weighs just 40 pounds, which means you can board it in your car and use your scooter whenever you want to.
What's Different?
It is light, eco friendly, and portable mode of transport that offers multimedia and on-board charging. You can easily detach the side panels and wheels that make it portable. It boards a powerful battery that can help you travel uphill. It is expected to be available for purchase by end of the year with price around $2,000 mark.