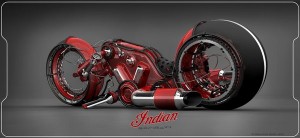 The Indian Gorilla V4 is a concept which has been submitted to the Local Motors community to carry out crowdsourcing development. This motorcycle which has been dubbed as the bike of the future is said to be a combination of a muscular bike coupled with fine details as seen on the handgrips. The Indian Gorilla is a bike, which is powered by a powerful V4 engine and has an old-styled ventilation grill, big exhaust pipes, hubless wheels and much more.
Design
Designer VasilatosIanis who has been working on this product for 17 years has created the V4 with the intention of making a bike which is more functional as well as visually striking. Indian motorbikes already have an iconic brand around the world. With a hubless design, the V4 is sure to be a visual hit with enthusiasts. Technical solutions derived from the rich history behind Indian motorcycles and progressive and updated solutions make up the concept behind the Indian Gorilla V4.
The beauty
This new design taps on the American retro style look of the motorcycles of the 60s and has converted it into a design considered to be a legend among riders, motorcycle enthusiasts and designers. For instance, the Indian Gorilla V4 motorcycle has a sporty driving position, 32-inch tires, use of chrome in large parts of the motorcycle, external tubular frame structure and so on. This makes the V4 vastly different from the bikes that already exist in the market and proves to be a dream bike promising a dream ride.
Feasibility
This new generation V4 bike is bound to set the stage for a top-notch bike boasting high-end design for any bike enthusiast. The key feature, hubless design in this bike is first of its kind in the market and likely to set the stage for more designs of this nature to be launched into the motorcycle market.