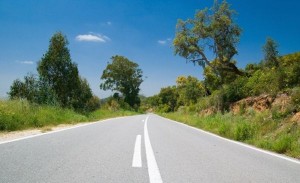 Whilst the UK has its fair share of nightmare roads (the M25 at rush hour springs to mind) it also has a wealth of picturesque country routes and beautiful B-roads that are perfect for cruising along on sunny afternoons on the way to a picnic spot. If you're planning a scenic drive sometime soon, here's a brief round-up of some of the best country drives to be had in Britain…
Yorkshire
Rural Yorkshire offers the spectacular Buttertubs Pass: this winding road through the Dales takes you through prime dairy country via steep cliffs and moorland to Hawes, where there's a creamery that produces delicious Wensleydale cheese. The name of the road comes from the large limestone pot holes in the rock, under which local farmers used to store their butter on hot days while travelling to the local markets.
Wales
The Black Mountain Pass in Powys, less romantically known as the A4069, is a hilly road that runs through the Brecon Beacons National Park. This spectacular route has become hugely popular ever since it was featured on the BBC's Top Gear, thanks to its breath-taking scenery and meandering bends.
Scotland
Motorists in search of incredible views will be spoilt for choice in Scotland, with a number of must-see road routes. Driving from Invergarry to the Isle of Skye on the A87 offers a variety of driving terrain as well as extraordinary views of the snow-capped mountains. The A82 towards Glencoe in the Scottish Highlands also serves up some of the most awe-inspiring mountain vistas to be found north of Hadrian's Wall. For those looking for something slightly more adventurous, the Pass of the Cattle in Ross and Cromarty can be a tough drive with its numerous hairpin bends, but it ends at the Applecross Peninsula – home to stunning beaches, imposing hilltops and vast expanses of water.
Midlands
The Peak District is home to the famous Cat 'n' Fiddle road, which takes its name from the pub at its summit and is particularly popular with bikers for its many bends. Alternatively, Snake Pass crosses the Peak District's hills, featuring steep climbs and long descents. If you're a fan of Shakespeare, there are several driving routes through Warwickshire which take in important landmarks, such as The Arden Tour.
Finally, for a stress-free drive (particularly if you're travelling a considerable distance), it's worth carrying out a few simple checks on your car  before departing, ensuring that coolant fluid and engine oil levels are adequately topped up – and investing in a car insurance policy that offers a breakdown recovery option for peace of mind.