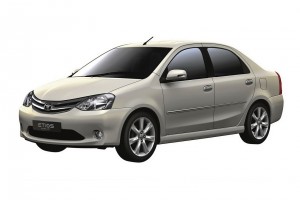 The Toyota Etios is a line of four-door sedan and hatchback cars produced by Japanese automobile manufacturer Toyota. Etios is one of the most sophisticated cars available in the market today. The sedan features a good-looking interior with power, excellent performance and great fuel efficiency. Its bold simplicity of design gives it a very elegant looks.
Exterior
The exterior of Toyota Etios displays a sporty and sharp look with a midlife face. Its upper grille, lower grille and headlamps together give the impression of a smiling human face combined with a sharp and compact looks. It has a chrome finished upper grille and lower grille is colored in black. Pearl white fog lamps are positioned at both end of the lower grille. Toyota Etios has unique rear box and triangular shaped taillight. The overall length of the Etios is 4265 mm, 1695 in width and 1510 mm in height. It has a fuel tank capacity is 45 Liters that turns circle radius in 4.9 m. Etios is available in  a variety of elegant colors, Celestial black , Serene bluish silver , Symphony silver, Vermillion red, Harmony beige and White colors. Rain wipers have been elegantly placed at both the front and rear face of Etios. Rear view mirrors, rear cowl, bumper in body color, door handles comes in standard with the every variant of Etios.
Interior
The manufacturers of Etios had tried their best to give it a graceful interior which is highlighted by its features. It can comfortably accommodate four occupants .The equipment section, includes speedometer and trip which are placed at the middle of the dashboard of the Etios while the AC vents are in round form. The three-spoke steering wheel is available in dual pitch along with the rest of the central. The dashboard of the hatchback is common while the one in the sedan's is rather appealing. Sufficient legroom and headroom are provided in both forms. For driver's comfort, music controls are placed on the triple spoke steering wheel. In an idea to facilitate perfect entry into in the vehicle the designers have also made back doorways. Storage space is carved in door pouches and centered console; however, even though the sedan has everything in terms of features; still the manufacturers have ensured that the Toyota Etios price in Chennai, Delhi, Mumbai and Kolkata including the other major metropolitan cities is retained at a lower level compared to its competitors.
Toyota Etios sedan is available in both petrol and diesel versions which are armed with 1.5 litre petrol engine and 87 bhp 1.4 Liter diesel engine. Toyota Etios is made using lightweight materials that produces advanced anti-knocking performance saving more fuel and increasing the engine longevity. The electronic throttle control contributes to its high fuel economy. The petrol version gives a mileage of 17.6 kmpl and 12 kmpl on highway and city roads. The diesel variant delivers a mileage of 20kmpl. Etios stands up to power, performance and reliability which have been long associated with Toyota vehicles. Toyota Etios is powered by advanced engines and produces sufficient power and torque to speeding up from 0 to 100 kmph in just 12.5 seconds with its maximum speed of 178 kmp and the diesel zooms up to 100kmph mark in just 19 seconds.