Motorbike riding is always fun. The kind of thrust that one gets when the bike accelerates from 0 to 60 mph in a couple of seconds is unmatched. Although there is always a competitive scuffle between different companies to come up with the fastest and speediest bikes, there is a limitation to the maximum speed as set by the government agencies and various other recognized forums. Let's take a look at the five most fierce and speedy motorbikes that are available to be bought.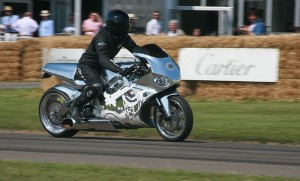 MTT Y2K Turbine Superbike
This superbike can attain a top speed of 230 mph and is indeed the most powerful bike in its category. This bike is equipped with a Rolls Royce 250-C20 turboshaft engine which produces whopping 320 horsepower running at 6000 rpm. Not only it's the fastest bike in the world but it's also one of the costliest superbike. This bike is equipped with a two-speed gearbox and is created by famous motorbike designer Ted McIntyre. Driving MTT Y2K superbike is an unforgettable ride and definitely gives out of the world thrilling experience
MV Agusta F4 1100 CC
Priced at $135,000, MV Agusta F4 1100 CC is a bike with unmatched looks and speed. This bike can attain a top speed of 195 mph and is powered by liquid cooled four-cylinder engine, which has been derived from Ferrari formula one engine. This bike is equipped with 6-speed cassette gearbox and can reach from zero to 60 mph in less than 3 seconds. There is no doubt that this bike is packed with lots of power and every motorbike lover would like to possess it.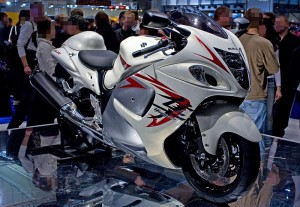 Suzuki GSX1300R Hayabusa
This ultimate motorbike from Suzuki is a superbike, which is quite famous in biking fraternity. The unique and famous name of this bike is derived from a bird, which can attain a vertical speed of up to 200 mph while hunting on its prey. This motorbike is powered by four-cylinder, four-stroke engine, which produces whopping 175 horsepower running at 9800 rpm. Mere mention of this bike sets your adrenalin rush and riding this super machine is quite a thrill. The maximum speed that this bike can attain is 190 mph.
Kawasaki Ninja ZX-12R
Kawasaki Ninja can attain a top speed of 185.5 mph and is equipped with four-stroke engine that produces 178 horsepower running at 10,500 rpm. For a biker, riding and possessing this bike is like a dream come true. With fuel consumption stats of 32.1 mpg and net weight of 545 lb, this bike is virtually unmatchable.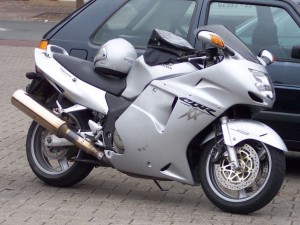 Honda CBR1100X
Honda is world-renowned company in the field of high-end motorbike design and manufacturing. This bike from Honda is again an engineering marvel, which is powered by 1137cc, 132.9 horsepower engine and gives amazing thrust and control to the rider. Honda CBR1100X can attain a maximum speed of 178.5 mph.