Being weird seems to be the new fad because normal stuff seldom attracts any attention. Making weird and whacky vehicles is not a new thing; however, the following vehicles brag some of the strangest car modifications, which will beat even your wildest imaginations:
We know that aliens look weird, they travel in flying saucers and we are sure if they drive a car, then it would never resemble the normal cars used by the earthlings. However, this car surely looks like the type of car that would even attract any passing alien to have a ride in it. Designed for people with an intense Gothic taste, this car automatically alienates itself from other cars on the road.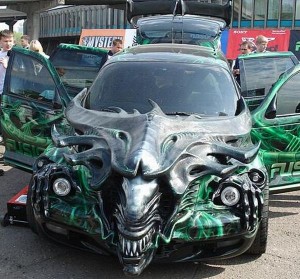 If you have ever imagined how Satan's car would look like, then this Evil Car created by W.T. Burge could be your answer. Burge successfully modified this Volkswagen into a merciless automobile hell hound by making gargoyle heads and glowing eyes on the front and sides. Although it might look like a truly devilish car made for the people who sold their souls to demons for money and fame, but it took some real imaginations and brilliant engineering to create this evil masterpiece.
There have been instances of a tank going rogue in civilian areas and resulted in large-scale property damage as well as injuries and so, the sight of a tank on the road might scare the hell out of many people. On the other hand, the sight of this mini tank on the road will instead prompt the passersby to utter numerous exclamation of amazement with its brilliant artillery tank inspired design. Originally, it was a Smart Fourtwo, which was modified to look like a mini tank by replacing the wheels with track systems used mainly in tanks. Moreover, besides the wheels, the other parts are also modified to imitate the looks of a tank along with the color which can totally blend with forest surroundings. Although we don't have the least idea if it is equipped with any kind of artillery system or not, but this car could be a dream car for any war enthusiast.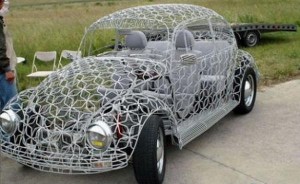 A perfect example of creative art and brilliant engineering, this Wired Volkswagen is not designed for only one glance. The exterior metal body of this car has been removed and replaced by a complete wired body which leaves no stone unturned to make sure that this is purely a geek's invention.
If you have ever wondered about the resultant product of an odd combination of sculpting and automobile engineering, then this Ford Mustang art car is here to demonstrate your imagination. It seems like the owner of this car was successful in transforming an old Ford Mustang into a whacky piece of art by installing rolling balls and jack box antenna in such a way that it looks like a moving masterpiece of modern art.