Not even the person who first said that human imagination has no limit could have predicted the awe-inspiring automobiles that run on the streets of 21st century. Mentioned below are some of the most incredible car mods that can only be the result of excellent engineering skills and a lot of wild imaginations involving technologies:
Created by Antti Rahko, finishing this incredible and strange looking limousine took the designer 10 years and a whopping $950,000 to complete. Constructed from the scrap parts of 40 vehicles including two Mercedes, this extra-ordinary limousine has 86 lights, 36 mirrors and is a 10-seater vehicle. Because of its strange way of construction and splendid engineering with which all the scarp parts are put together, this scrap part Limousine has won the title of the best art car at the Houston Art Car events in 2007 and 2009.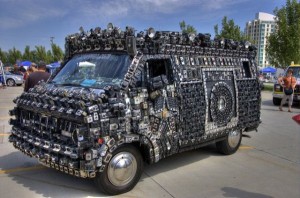 At first sight you might think that some kind of Japanese best buy must be going on because hundreds of cameras are attached all over the car in such a way that no free space of the exterior body is left untouched by any camera. A truly creative idea of combining cameras and a car to make a camera car, the creator of this car must have been deeply fascinated by the paparazzi at some point of his life.
Batman and all of his super Batmobiles never get old and never will. It has and will always remain as a brilliant source of inspiration for numerous car modders and this Batman Smart car is a tribute to the epic character ever invented in the history of human civilization. Designed by George Barris, this Batmobile might seem like a bit smaller for our mighty Batman but he made sure that every inch of this car exudes the charm and splendor of the protector of Gotham city.
When we were kids, we were taught that recycling art is not only useful for us but it is useful for our environment too and this must have deeply motivated Jan Elftman, who after working in a restaurant for 13years got the chance of collecting almost 10,000 wine bottle corks. Moreover, in the process of trying to make good use of these corks, she covered her entire truck with it and overnight became famous as the creator of The Cork Truck.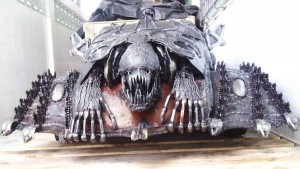 Made out of various scrap parts of expensive car models like Chevy Cobalt SS, Chevy Cobalt, Chevy Aveo, Honda Insight, Toyota MR2, Toyota Echo and Porsche Boxster, this space ship car is the dream product of any Star Wars or Star Trek fan. It might not be the fastest vehicle of the planet but its spaceship like design is totally mind-blowing.