Like human imagination, celebrity extravagance is also beyond limits. The rich and the famous would go to any length to spoil themselves with their own wealth. They buy islands in Europe, own million dollar houses across the country, sleep in diamond studded beds and most of all they spend a huge sum of money in their vehicles. But here, except their too expensive and gorgeous cars, we are not going to discuss their extravagant display of wealth in other aspects of their life. So, we have comprised a list of five most expensive cars flaunted by the rich and famous:
Jay Z and his Maybach Exelero ($8,000,000)
An 8 million dollar Batmobile lookalike might only be a dream for many of us, but not for Jay Z. He drives a Maybach Exelero which exactly looks like a Batmobile. In his music video named "Lost One", he is even seen driving this highly expensive jaw-dropping piece of beauty. With an enormous weight of 2.66 tons, this dream car can be driven at a speed of 218.38mph and in just 4.4 seconds; it can also pick up acceleration from 0-60mph.
Simon Cowell and his Bugatti Veyron ($1,700,000)
Simon might be the crankiest judge of American Idol but when he is driving his 1.7 million dollars Bugatti Veyron, he is nothing but all smiles. This million-dollar car is ranked second in the category of fastest car of the world and in 2.5 seconds, it can pick up an acceleration of 0-60mph and can also reach a speed of up to 267mph. Besides this, Cowell also has an expensive car collection of Rolls Royce Phantom, Ferrari, and is soon going to add a 100EX Cabriolet.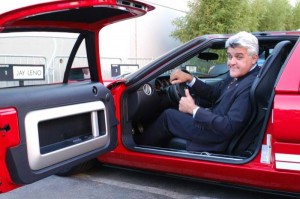 Jay Leno and his Mercedes SLR McLaren ($450,000)
Jay Leno has always been a big fan of cars and has a grand collection of rare and expensive cars ranging from a 1906 Stanley Steamer, 1970 Dodge Challenger to EcoJet. However, the famous talk show host/comedian proudly calls his Mercedes SLR McLaren as one of his favorite cars among other masterpieces because, according to him, this is the fastest car from his collection.
David Beckham and his Custom Rolls-Royce Phantom Drophe ($407,000)
The former Manchester United player, David Beckham is often seen proudly cruising in his Rolls-Royce Phantom Drophead, which is fully customized for him. Besides the custom built wheels and the color matching exterior, Beckham's famous "23" is also embroidered neatly onto the seats.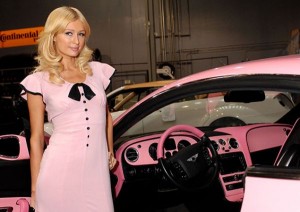 Paris Hilton- Bentley GT Continental ($285,000)
As a rich and famous hotel heiress, who also got caught up in some serious law and order trouble, Paris Hilton drives an entirely pink Bentley GT Continental fitted with a diamond encrusted dashboard. Especially made to suit her taste, she bought this diamond filled pink Bentley in December 2008 as her Christmas present.