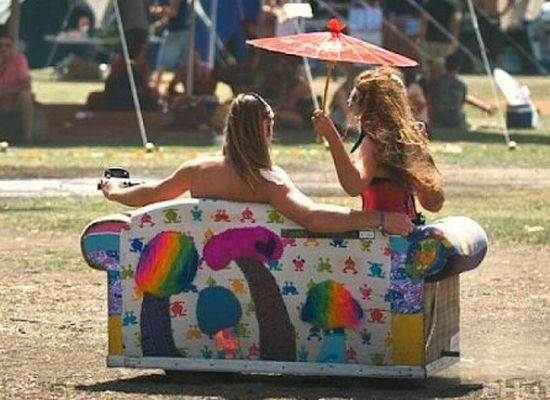 Motorized couches aren't new but it's not that we see them making rounds on the web too often. Notwithstanding, whenever they appear on the web or in daily life, they get lot of heard turns and tones of praises. Well, keeping that thing aside for a while and let's now talk about an Australian entrepreneur who wants to provide festive goers an utmost relief and improve their comfort as well as leisure with motorized sofa.
The idea for a couch that you can drive around came to Mardy Daniel, 21, a part time disc jockey, while drinking with his friends. In order to make it, he bought a couch for $20 from eBay and equipped it with everything that could make it roll. The motorized sofa has a motor beneath the cushion and along with wheels, solar powered batteries and a charger. The product, as per Daniel, has got a warm welcomed from street performers, charity event organizers, DJs and music video producers.
Daniel has launched first-of-a-kind motorized sofa company, Festival Couch and has already build five couches to provide festivalgoers or frequent visitors of large music events the ease of commute from stage to stage.
Every couch rolling out of Festival Couch is a unique and the Beast couch features a 125cc motorcycle engine. The Moo-Cowch is a two-seat sofa detailed to appeal customers with DJ interests and is flaunts with DJ decks and a speaker system. Other version, Un-named Couch, is for those who can bear big noise with relative ease as it comes with 5000-watt speaker. Apart from these, there are mini add-ons like with a mini-bar attachment that offers beers four chilled beers at a time. All the products are fun and add more to your enjoyment with their unique traits.
Via: Digitaltrends