Steampunk gadgets get their inspiration from the time when steam power was still widely used. These modern gadgets, which appear to belong to Victorian era, are cool and stylish. In these gadgets, future meets the past. 19th century technological and aesthetical aspects are incorporated in Steampunk art. Steampunk enthusiasts work on the design of modern gadgets and give it the look of era when steam power was prevalent.  Here we highlight some cool steampunk gadgets that you will really like.
Incredible Steampunk Computer Mouse
Are you tired of regular mouse that come with your computer? Here is the smart steampunk computer mouse, which will floor you. This tank shaped golden computer mouse looks cool. It displays eclectic Victorian exterior. The cord and the USB port are also very classy. The occult symbols engraved on the gadget really make this gadget very stylish.
Steampunk Laptop
This hand crafted intricately designed wooden case may look like Victorian era box, but within it lays a Hewlett Packard ZT 100 laptop. On its upper surface, one can see a number of clock works arranged under a glass panel. The keyboard itself looks like an antique piece with leather wrist pads and copper keyboard. It is supplied with violin style sound holes covered with black cloth, which is actually a functional speaker. An antique winding key is provided to turn on the laptop.
Unusual Earphone
This peculiar looking earphone is made from rubber and sculpey. It has watch parts on its outer surface, giving it a typical steampunk look. It is lined on the inside by suede leather making it comfortable on the ear. Unfortunately, this set of headphones is non-functional model. Still it is cool. Isn't it?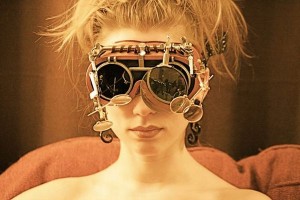 Steampunk five lens goggles
These goggles with five lens fully adjustable system are made from durable plastic. The lenses are clear, with a large flip down lens on the left eye, and two smaller flip down brass lenses on each sides of the goggles. The goggles are fitted with adjustable leather strap and brass bolts for durability. Several parts of these goggles are highlighted with vintage leather and brass.
Tentacle bass guitar
Guitars are very popular for steampunking. This beautiful guitar designed by Molly Fredrich has 16-inch brass tentacles. They are made in such a way that they do not interfere with the strings. The metalwork does not make the instrument heavy, and the guitar is fully functional. There is Jules Verne inspired clockwork on it, which makes it stunning.