Some like it classy and some like it trashy. All people don't have same taste in automobiles. That is the reason why so many automobile manufacturers have become rich by selling cars. Every one doesn't have enough funds to buy luxurious cars but some of them like to pimp up their cars on a small budget so that it looks different, extraordinary or bizarre. The small budget cars can be given a makeover through pimping. People like to make their car reflect their personality. Even celebrities like to pimp up their cars in weird ways. The celebs get their cars pimped up in exclusive ways. In this article we will talk about some of the wild and fantastic pimped up automobiles which might give you inspiration.
Ludacris's Pontiac Convertible:
Ludacris loves cars and this is no secret. So, when he got nomination in MTV music awards in 2005 he raised his Pontiac Granville 4 inch from its normal height. He is a lover of all things Louis Vuitton and how his car could be an exception. He got the interior of his car decorated with leather bearing and the LV designer emblem. Even the Steering could not escape his whim.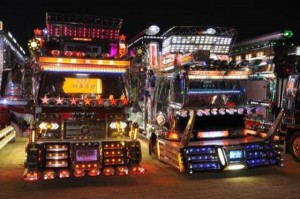 Japanese Pimped Trucks:
Transporting goods from one place to another can be a tedious job. Sparkling up the pick-up trucks can make the job a lot more fun. The Japanese do just that, they pimp up their trucks in the most bizarre fashion. Cargo and other sort of trucks are given a special anime makeover. Most of them look fascinating and eye-catching. Actually these are the product of the ongoing 'Truck Art' movement, huge in the eastern regions of Asia. Lights play a vital role in the design of the trucks. Bright and colorful lights can make anything look chic; at least the Japanese seem to think so.
Britney's Hummer:
The H2 Hummer would have looked classy and normal if the owner someone else but Britney Spears. It possesses 6 lit V8 engines; well enough for hard core speeding but what shocks us is the devastatingly pink interior.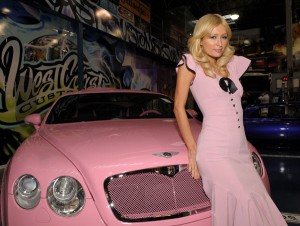 Paris goes Pinky:
Paris Hilton loves pink and she doesn't make any secrets of what she loves. On her birthday the heiress got her Bentley Continental GT pimped up. It got a baby pink makeover and the interior got monogrammed with her initials.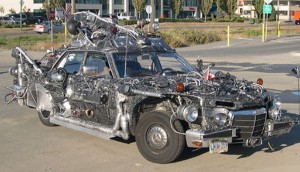 The Space Junk Art Car:
Rot N Hell is one hell of a Canadian artist bent on pimping up his car inside out. Every year 2 whole months are invested along with some $3000 for decorating his '76 Ford Maverick. At first it was just a way to pass time but he became quite engrossed and would collect all sorts of junk to use on his car.