Hollywood is full of surprises and special effects. It uses many different elements to astound us, and cars are a major part of Hollywood movies. Not just frantic car lovers but also the nonchalant people can't help but adore some of the famous cars used in movies. There have been some movies where the car was not just an ornament but it became a character itself and got involved in the plot. Sometimes the car played the role of savior and sometimes it acted as the accomplice of the villains. They are a part of the joy and tears evoked by movies and touched our heart. Underestimating the role of cars in Hollywood movies is a folly because they have helped in advanced thinking, technological innovation and inspired people to love cars. Following are the top iconic Hollywood cars that have been highly esteemed by all of us.
Ecto-1:
If you have seen Ghostbusters then you must remember the car they used always. The movie's production and designing units turned a Cadillac Ambulance into Ecto-1 with great imaginative flair. It had the right amount of smartness combined with the gawkiness of geeks and made it a hit among teens. It promoted pimping up and inspired many teenagers to give their cars an edgy makeover.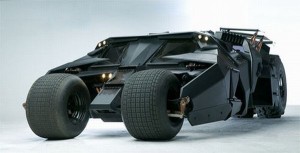 Batman's Car in Batman Begins:
Nothing less of spectacular can work for the Batman. Christopher Nolan is quite a perfectionist who was not at all satisfied with the design or looks of previous Batmobiles used in similar type of movies. It was his idea to get a brand new car designed by the production unit. Three different cars have been used to make this iconic Hollywood car. Parts of a tank, a Lamborghini and a Hummer have been mixed to get the perfection.
The James Bond Car:
The Bond with the best can never settle for anything less. The secret service agent's iconic car is equipped with all sort of stunning gadgets and is compatible with all sorts of dangerous circumstances. The Aston Martin DB5 has been used for this purpose and it packs a neat punch. This is a dream car for many car lovers because of its arrogant and dangerous appeal.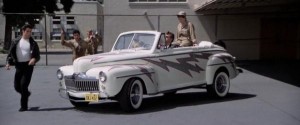 'Grease'-1948 Ford Deluxe:
This oldie Hollywood movie stars John Travolta and Olivia Newton John. The Ford Deluxe in bright red hue and white design does not fail to impress us. It is a musical and the car is a part of some of the musical numbers.
'Christine'-1958 Plymouth Fury:
The car is definitely a central character of this movie. It is the killer of this movie and looks stunning throughout. The red, sleek Plymouth Fury performed well and grabbed a permanent place in our memory though the movie failed at the box office.