Super cool, shiny cars zoom around us every day, but have you ever wondered how cool a car would look if it had the sheen of a wood? Here we have compiled a list of five cool and amazing cars that have been finished in wood. Check them out-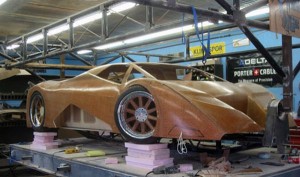 Splinter
This wooden car has taken the world by storm. Not only it can take high speeds of 240 miles per hour, but it can also look equally stylish, in fact, seductive with its deep wood finish and shiny headlamps. The car, which is 15 foot long, comes with V8 engine of 4.6 liter. Made from maple, plywood as well as fiberboard, the car is 530 pounds lighter than a Porsche 911 GT3, but exceptionally powerful and strong. Gas mileage is decent, with 20 miles per gallon.
Custom built Toyota Truck
This custom built wooden car is beautiful and carved on 1986 Toyota Truck. The car has been made using Chrysler 318 engine and uses automatic transmission for control. The body of this truck uses cedar for beautiful and colorful woody finish. And right now, the speedometer only shows 1800 miles!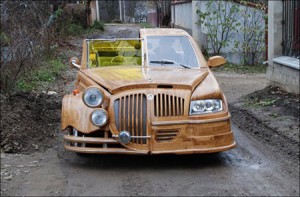 Two faced wooden car
If you are confused between two cars, then why not have a single car with two faces? Well, this particular car created by Vasily Lazarenko from Ukraine has two faces on the exterior. Although, the car has been basically designed on the model of 1981 Opel, yet it has two beautiful and unique designs. The unusual car is used by the designer.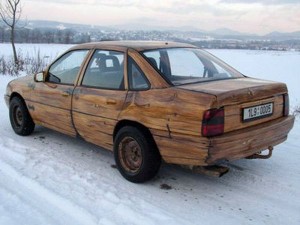 Opel Car
This Opel Car has been transformed into an amazing piece of art. Inspired by The Splinter's concept, this car has all the details and craftsmanship finished in wood. And not just simple wood finish, it has a design of wooden blocks that have been carved in the shape of the car. Even the rear view mirrors are beautifully engraved in wood. Makes it quite woody!
Diederick Kraaijeveld's Wood Car
An artist, Diederick Kraaijeveld is known for creating beautiful masterpieces. Currently, he has made a fifty inch car from wood, which he has used for travelling throughout Holland and abroad. The cars he creates use genuine colored vintage wood. So, if you are board of the regular brown, then you can get a colored wooden car customized for yourself. It takes him a few weeks to create one depending upon complexity. Cars cost an average of $8000 or more.