Roads are slowly getting choked with the amount of cars spewing over them every day. With aerial cars nowhere in sight, it is only natural that we turn towards new and innovative amphibious vehicles. Here's a list of the top five most amazing amphibious vehicles:
The JMC Amphibious Pickup
China is a land prone to floods and earthquakes. The illustrious Chinese came up with this amphibious bad boy for rescue and relief purposes. The JMC Amphibious pickup was built by the JMC Amphibious Vehicle Development Co. (situated in Nanchang City, Jiangxi). A turbo charged 4JB1 engine that churns out 90HP at 4000RPM powers this vehicle. It also comes with power drive, payload carrying capacity of 800KGS, an extra-large 70litre fuel tank and GPS.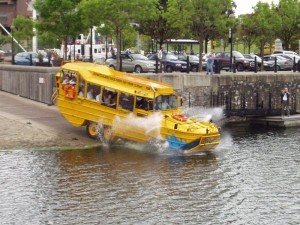 DUKW
Perhaps one of the most iconic of all amphibious vehicles ever built by man is the DUKW. It was built on the same 6-by-6 chassis of a standard GMC, has the same 4400CC engine with the same identical transmission. The vehicle was literally indispensable during World War II and still remains a formidable amphibian as it can even easily skim through rough seas. New DUKWs are hard to come by and a restored one will put you back by at least £25000-£30000.
Amphicoach
When talking about taking tourism to a whole new level you would probably want to cite the Amphicoach as an example. With a seating capacity of 50 and equipped with the latest in luxury, comfort and technology, the Amphicoach took 6 years to develop and deploy. This 5-star tourist coach can take tourists for sightseeing in a city as well as the water bodies surrounding it. The Amphicoach comes in 2X4 and 4X4 drive variants with dual diesel engines.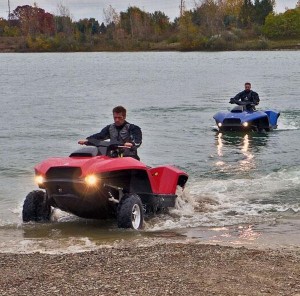 Quadski
The company Gibbs Technologies came up with a cross between a four-wheel drive car and a jet ski, and named it, the Quadski. It is based on the Humdinga and is the third in the line to incorporate the Gibbs HAS technology. The company says that it can be used for military, rescue and civilian use. This versatile amphibian comes loaded with a 140BHP petrol engine, which allows it to clock 50MPH on both land and water.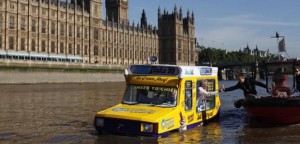 Amphibious Ice Cream Van
The Brits are not allowing even water to come in the way of them getting some ice cream! Not by the looks of this modified HMS Flake 99 van that can deliver your snow cones and popsicles at 5 knots. It can be seen in and around the rivers and canals of UK. The motto inscribed on the van reads "Licensed to Chill". Dave Mountfield recently completed a nationwide tour of UK's and Venice's water bodies in it.