When the entire world is being held ransom by global warming, it is probably a good idea to switch to a more eco friendly mode of transport – like a bicycle. However, the normal aluminum/steel frame bicycles lack the durability for daily rough usage. Also, the metals make them cumbersome and hard to maneuver, when riding uphill or scouting for a shortcut amidst the city traffic. Here's where carbon fiber bikes come into the picture. Sturdy, cool, lightweight and virtually indestructible – these bikes will get the job done and make heads turn in the process! Here's the list of top 5 carbon fiber bikes:
Nomad-C Bike
It looks rugged and menacing but weighs a measly 6 pounds. Santa Cruz did away with the aluminum for the frame and replaced it with carbon fiber. Not only, can you race through city streets with this one, but also scale the steepest inclines you can find. It also comes with front and rear disc brakes, VPP suspension systems and Monarch 3.3 shock. It is priced at $2499.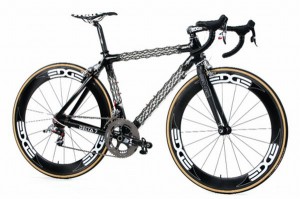 Delta7 Ascend
There are terrains which can make even the mightiest of SUVs lick the dirt. Delta7 gives the answer in the form of its Ascend carbon fiber bike. Exceptionally durable, efficient and lightweight, the Ascend can trounce any terrain you can possible throw under it. The unique IsoTruss structure of its frame makes the bike weigh only 2.3 pounds, yet the frame itself is 10 times stronger than its steel/aluminum equivalents. It is priced at $12000.
BERU Factor 001
British engineering firm BERU threw all conventional bike concepts out the window and got its F1 engineer team and came up with the Factor 001. The design has been made entirely from scratch and is hands-down the last word in road/hybrid bike design. The Factor 001 has carbon-ceramic brakes and a carbon fiber monocoque frame. It also features an LCD touch-screen which displays the rider's biometrics and other information. BERU says the bike will be custom-made as per customer specification and will be priced at $34000.
CY-SPK227
When it comes to city commute, traction control is very valuable. Sanyo mixes the ease offered by traction control with its world's first carbon fiber electric bike – the CY-SPK227. It features two wheel drive and traction control. The rear wheel is powered by a chain and the front wheel via an Eneloop electric motor. Even with the carbon fiber, it weighs 43 pounds. It also features magnesium suspension, LED lights and regenerative braking – all this at a price of $6600.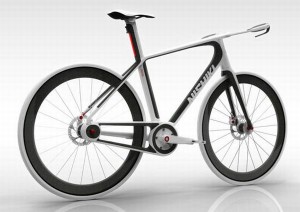 Nishiki Concept Bike
This is a bike for those who want their bicycles to have the features of a motorcycle. Designed by Fredrik Rudenstam, this bike features a high modulus carbon fiber frame, OLED lights, a belt drive (driven by a Li-ion motor), the NuVinci gear hub (capable of automatic gear shifts) and much more.