We have all seen or heard of supercars costing millions of dollars. Such cars are the last word in terms of power, style and luxury. However, there are motorcycles, which are equivalently as expensive as their four-wheeler counterparts are. Here's a list that includes the top 5 most expensive production motorcycles in the world:
Ecosse Titanium Series FE Ti XX
Price: $ 300,000
The motorcycle company Ecosse Moto Works is world renowned for their classy and exclusive bikes. Their latest offering in the Titanium Series, the Ti XX, is allegedly the most expensive motorcycle in the world right now. The price tag of $3 million is justified when you feel its 2409CC billet aluminum powerhouse of an engine roar with 228PS. Italian leather maker Berluti has handmade the saddle. In addition, the exhaust pipes of the Ti XX are Grade-9 titanium with ceramic finish and there has been a copious amount of carbon fiber for the body of the bike to keep it lightweight.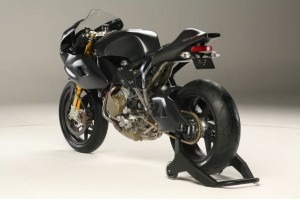 NCR M16
Price: $232,500
What do you get when you take an already expensive street bike and splurge money on it? The NCR M16. Boffins of NCR, took the Ducati Desmosedici RR and modified it to perfection. First he put the bike on a diet regime that brought its weight down to 144KG. The diet regime consisted of a carbon fiber frame, wheels and swingarms and ceramic composite brakes. Buffins also used specifically tuned Öhlins suspension – which delivers power evenly on the asphalt. The engine churns out 203PS of power to the rear wheel.
NCR Macchia Nera
Price: $225,000
Another modified Ducati from NCR is the Macchia Nera and it is third on our list of most expensive motorcycles. NCR took the Ducati 998R Testastretta (with a power rating of 182PS) and put their excellent craftmanship to work. They first gave it a titanium frame and a carbon fiber fuel tank with a titanium lid. This brought down the weight of the bike to 135KG. In addition, NCR outfitted the bike with Magnesium wheels, centrally vented dual disk Brembo brake system, Öhlins suspension and an Evoluzione Slipper Clutch.
MTT Y2K Superbike
Price: $175,000
How about a helicopter's engine in a motorcycle? You would think we are crazy to even write something like that. But, Ted McIntyre, from Marine Turbine Technologies, did just that when he took the 250 Turboshaft engine from Rolls Royce's Allison model and put it in his MTT Y2K Superbike. The bike comes in two variants – the good boy churns out 324PS of power, and then there is the badass Streetfighter variant that spews 426PS with a torque of 678Nm. With that amount of power you can easily leave everyone in the dust when you hit 365KPH (claimed top speed).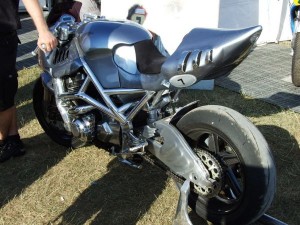 Icon Sheene
Price: $172,000
Icon Sheene was built as a tribute to the legendary rider barry Sheene, by motorcycle manufacturer Icon. They needed to make it one of a kind. So, they took a 1400CC Suzuki engine and combined it with a Garrett turbocharger at a pressure of 0.4 BAR – the result? 253PS of power to the rear wheel. The bike has a tubular aluminum frame, carbon fiber body panels and a hand-beaten aluminum fuel tank.