EIGHT GmbH & Co. KG recently came up with a new solar charging station designed for a single electric car. The company unveiled a demonstrator of this charging station from Suessen (Germany) in front of the BMW Welt in Munich. As part of a research project performed in the context of Bavaria-Saxony "ELEKTROMOBILITÄT VERBINDET" initiative, this DC fast-charging station was together activated by the BMW Group, EIGHT, ABB, RWE, Deutsche Bahn, German Armed Forces, Dresden Technical University, University of Bamberg, and University of Munich.
The station initially covered a 55-sqm area designed to charge four cars at a time, which further aimed to serve large institutions and businesses. But, the newer Point.One S version is designed for a single car and can be extremely useful for households and medium-sized firms. EIGHT's managing director, Christoph B. Rößner, was quoted as saying: "The new version offers all the features which people know from the original Point.One. But, as the Point.One S is much smaller, the solar charging station needs less space and integrates even easier with the architecture of its surrounding. Just like Point.One, our new version is designed to integrate different kinds of charging technologies – depending on the needs of the customers." Rößner also said: "Our patented, impressively sustainable manufacturing system and parametrical planning processes allow the station to be adapted to the location and its surrounding architecture as effectively as possible."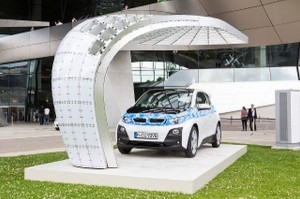 As per its philosophy and reputation for solar charging stations, EIGHT aims to get people interested and excited about emissions-free e-mobility. Thus, it designed a modified and highly intelligent user interface for the demonstrator of Point.One S in collaboration with the University for Design of Schwaebisch Gmuend. The company wants to link the modern urban lifestyle with sustainability so it can come up with innovative business models related to e-mobility. With its DC-charging project partners, the company has activated a new charging station in front of BMW Welt. This station from ABB is based on the new IEC Standard 61851-23 / Combined Charging System (CCS). Within less than half-an-hour, it can charge BMW i3's pilot production version with empty batteries up to 80%, extending its range by 130 km. To further connect this technology to the IT system, RWE Effizienz would erect a second CCS-fast-charging station at the same place.
In the modern world, sustainable mobility is a requirement when new products are developed, and this attempt by EIGHT to launch a user- and environment-friendly solar charging station for electric cars is a great attempt in that direction. The way it is designed to connect people and their vehicles with renewable energy sources offers the ease of use that further drives people toward electric mobility.