Are you looking for a cool, comfortable and compact car for your small family needs? If it is difficult for you to navigate through tight spaces within the city and you are looking for a convenient vehicle in which your small family can go for a drive, then there are several compact car options available for you now. These cars are not only economical, but also have sufficient cargo and passenger space for the requirements of a family of three to four people. Check out some of the best compact cars that would perfectly suit your needs.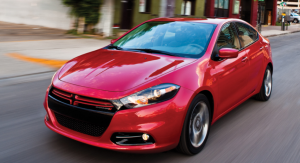 Buick Verano: Staring at a price of around $23,000, Buick Verano gives you ultimate luxury. You get a refined cabin, standard equipment, and stylish interiors and exteriors in this car. There are 10 airbags to provide you and your family a safe drive. Verano also features audio streaming and smartphone integration through its infotainment center. This athletic car can pep you up with its fuel economy of around 21 mpg.
Chevrolet Cruze: Offering you some similar driving dynamics as Buick Verano provides, Chevrolet Cruze is a fuel-efficient car in which you can cover miles with your family very comfortably. Its fuel economy has been estimated to be around 30 mpg. It comes with a wonderful infotainment system though some people might not like its body style. However, a price tag of nearly $21,000 is still quite attractive to go for this car.
Dodge Dart: This vehicle offers over 97 cubic feet of passenger room, which is more than what any other compact car might provide you. Even though its cargo convenience does not match that of a hatchback, it delivers an excellent fuel economy of around 27 mpg. This car features an easy-to-use, touch-screen navigation system, as well as 10 airbags, a rearview camera, and an iPod interface. You would love to take frequent drives with your small family in this car.
Ford Focus: Focus comes with a 2.0-liter engine and offers a fuel economy of around 28 mpg. Its versatile hatchback body style makes it look very attractive to drivers and passengers. If you require a good balance of features and price, then go for SE hatchback that comes at a price tag of $19,200. This model features special cruise control, smartphone and MP3 player integration, power rear windows, etc.
Honda Civic: The wonderful body style and interiors of this car will surely attract you toward it. The car is reliable efficient with a fuel economy of around 28 mpg. It offers a sporty Si model and a two-door coupe. However, a small family's requirement can be perfectly met by a four-door EX sedan. Its usable rear seats and 5-speed automatic transmission make this car a convenient option. The car additionally features a sunroof, Bluetooth connectivity option, and alloy wheels.