Some people make really cool and crazy choices, especially when it is about their cars. While many owners opt to make their car interiors look unique, others cover the exteriors with cool designs and materials. Check out some of the coolest covered cars that could appeal any car lover.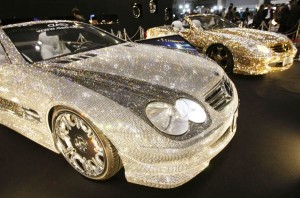 1. Crystal-covered car: If you always wanted a million-dollar car, then this SL 600 Benz is worth giving a glance to. Displayed at a world car exhibition, this vehicle is all studded with Swarovski crystal glass. There are 300,000 crystals used to cover the whole car. This stunning cover has made this regular SL 600 Benz worth one million dollars.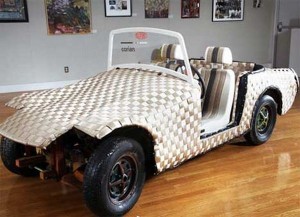 2. Seat belt-covered car: You would be amazed to see this uniquely thought covering on a 60's MG Midget car. The car was simply parked in the backyard of two American artists who were working on a recycling and sustainability project. Under this project, they decided to give their car a fresh woven look that became possible by using more than 500 yards of seat belt material. Seat belt material was woven to cover the car in such a way that it looked like a beautifully crafted mat. The woven body was bolted to the metallic body of the car.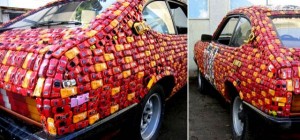 3. Car toy-covered car: Can you imagine 4,500 toy cars running on a huge car's body? This would exactly be the scene when you take a look at the Ford Capri car, which has been given a covering by an artist, James R. Ford. You would feel as if this car does not have any more parking spaces left to accommodate more toy cars.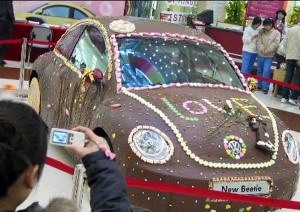 4.Chocolate-covered car: Would it not be cool to express your love with a special car wrapped in chocolate? A car dealer in China had the same thought while creating this chocolate VW Beetle. Seven people were assigned to wrap this car using a cling film and then covering it with 200-kg melted chocolate. The chocolate car was later displayed on the Valentine's Day.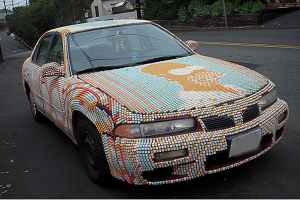 5. Keyboard key-covered car: A very cool cover has been given to a car by sticking innumerable keyboard keys on its body. Every geek would undoubtedly love this wonderfully covered car.