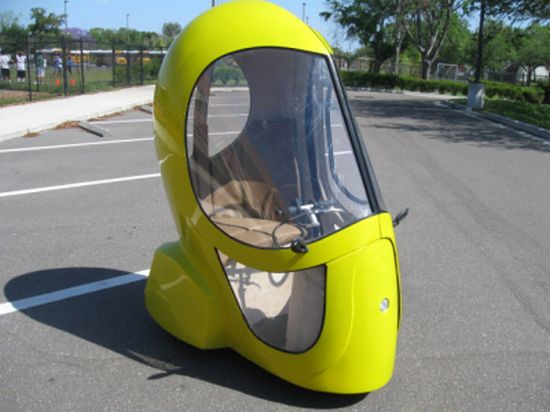 As the number of vehicles is increasing on road with each passing day and it's going to double in the next 20 years, there is a dire need for compact and eco-friendly vehicles. Coming up to the occasion is Eggasus, which is an egg shaped futuristic personal transportation vehicle designed to solve not only the exploding traffic congestions but parking woes, air as well as noise pollution in future.

Eggasus is planning to launch the vehicle in US this fall. The single-seater vehicle is in a prototype stage as of now and is to ferry a passenger comfortably from one place to another. Creating no noise while on the move, the vehicle features an enclosure that protects you from severe weather conditions.
What seems to be the car of tomorrow, Eggasus is comfortable, stylish, has zero tail pipe emission with traits to suit the roads of tomorrow. Powering this three-wheeled EV is an electric hub motor in the front wheel. The vehicle also features tinted windows, instrumental display panel and a comfortable seat for that ease of driving.
Eggasus has opened the reservations for the EV, which is to start a new paradigm in personal eco friendly travel. The possible customers in US can ride one by this fall. Unfortunately, there is no technical information like its range, power etc or price details are available at this moment.
Via: Eggasus