Bicycles do not have much variety in general but time has surely changed and it is time that the boring, old bicycles get a new makeover. Designers are trying hard to make positive changes to the existing basic design of bicycles. The new age bicycle concepts include hi-tech systems that promise better and amazing services in future. It is true that some of these designs will never turn into reality but surely they give us hope and something to dream about. The concept bicycles have been designed keeping in mind the state of our environment and the need of the public. Congested and polluted city roads need bicycles that can be easily parked and moved. If more people are interested in bicycles then the overall pollution rates will go down. Bicycles are eco-friendly as they do not emit harmful or toxic gases and they do not need much maintenance. 5 of the best and very unusual bicycle concepts are discussed in this article.
The Smart City Cycle:
City dwellers avoid the bicycle because they cannot always carry their goods while riding the bike. The rear tires of this Smart Cycle can be expanded to open up the foldable compartment. This compartment can be used for storing goods that you want to carry.
The Ultimate Citi Bike:
The Citi Bike which can be any businessman or corporate worker's regular companion has been designed for Ford. It is designed in such a way that you can ride it wearing a business suit without any uneasiness. You will get torsion bars for steering the bike and there is enough space for storing you bag, files and laptop.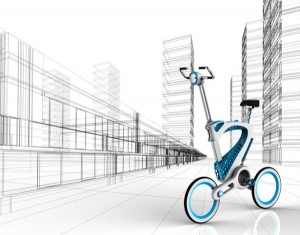 Mori Folding Bike:
Janus Yuan has created the unique Mori Folding Bike Concept keeping in mind the safety of the bike and space scarcity faced by urban users. It is ideal for women because there is a compartment for storing things and the size of the bicycle is small. This bicycle can be transformed from one mode to another. There are several modes like trolley, scooter, bicycle and you can fold it when not in use.
London Garden Foldable Electric Bicycle:
This is a very flexible and foldable bike. This electric bike generates energy that can be stored and sold in exchange of money for paying your bus fares.
Apple Bicycle:
The magnetic wheel and laptop storage space are the specialties of the Apple Bicycle. You can charge your iPod with the help of iPod scroll wheels.