It may sound unbelievable but the tech giant Apple has also successfully developed and patented some auto concepts. They do not miss any opportunity to include and improve already existing technologies in their newer and better innovations. The auto concepts prepared by Apple are all unique and excellent. They will give the other auto companies a run for their money once these concepts turn into reality. If you are an Apple lover you will surely enjoy the Apple auto concepts because they work perfectly with your iPhone and other Apple gizmos. At present we can only hope that soon Apple will start converting the brilliant ideas into reality and give us something new to admire. Some of the best auto concepts designed by Apple are discussed in the following.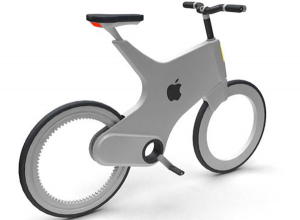 The Apple iBike:
Apple has developed a smart bicycle concept which will most probably be named iBike when marketed. It can be used both individually and in a group. Cyclists can communicate through it with each other and solve their direction problems and other crises. This bike can measure altitude, speed, incline, decline and heart rate.
Apple Bicycle:
Designed by Jake Foley the Apple Bicycle runs on hydraulic fluids. It can be folded and there is no need to chain it when not in use. It has special iPod scroll wheel which lets you charge you iPod and there is also space for carrying your laptop around the city. It is an ideal bicycle for the young generation who need to get more work done in little bit of time. It is also very eco-friendly.
The iCar:
Steve Jobs had a dream project and that was building a beautiful car. There is no information available about the iCar that Jobs wanted to produce but according to Apple board member and J Crew CEO Mickey Drexler if it would have been magnificent. Jobs probably could have changed our perception about new age cars.
Apple iMove Concept Car:
Liviu Tudoran has designed the iMove concept for Apple. It is a new age car that seats three people and also has a luggage storage compartment. It has a LCD dashboard and lots of gadgets for entertainment.
The iMo Concept Car:
The iMo concept car has evolved from the philosophy given to the world by Apple. Designed by Anthony Jannarelly it has not yet got authorization for using Apple's brand name but it surely looks promising.