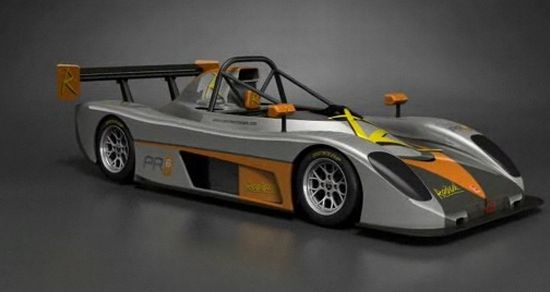 Radical Sports Cars isn't a name we have never heard of as the brand is up and pursuing radical cars since 1997 with its mission to build affordable cars. One of its elegant sports cars is Radical PR6 that can outshine anyone in the fast pursuit on the tracks and hills equally. This model is far superior and upgraded over Radical Sports' entry-level SR-1 racer and is a true embodiment of a versatile race car that comes out after meticulous attention paid to technical aspects that not only makes it lightweight but also add a lot of aggression.
Powering Radical PR6 is a mean mill i.e. 1,340 cc 4-cylinder engine that might not sound too good keeping in mind it's a sports car. However, the racer weighs not more than a motorcycle i.e. 480 kg, so the current engine that generates a total of 210hp and 130 pound-feet of torque at 10,500 rpm isn't that bad. The engine is customizable and can take the power tally to a moderate 280hp. Engine is aligned with 6-speed sequential gearbox that transfers power to the ground.  Radical PR6 is capable of racing from 0-60 mph in 3.6 seconds, from 50-100 mph in just 6.1 seconds and has a top speed of 140 mph, which is commendable by any mean.
The exterior look of the vehicle is inspired from Le Mans prototype cars that can be seen in the form of low nose, tall front and rear fenders and its open air style. The racer measures 3.79 X 1.03 X 1.55 meters in length, height and width respectively. Its body is built from four-pieces of lightweight fiberglass and front end of the vehicle flaunts honeycomb aluminum construction style that grasps almost the whole energy in case of front collision.  Additionally, the front and the rear of the car is adorned with high down-force composite diffusers, there is high down-force wing at the rear, racer has an aluminum fuel tank fuel tank of 36 liters, and cast aluminum 7 x 13 inches wheels shine on the front and 9 x 13 inches embellish the rear.
Inside, Radical PR6 has driving seat positioned centrally and is cocooned in an MSA approved powder-coated carbon-steel frame, there is adjustable pedal box, its harness meets the requirements of racing associations and the gauge cluster that incorporates analogue LED tachometer, gear indicator, and four displays for various engine data. Talking about the pricing of the racer, for the base model is costs an affordable $54,185 and go all the way to a whopping $87,415.
Via: Topspeed