Consider the scenario wherein your car breaks down due to a minor fault in the middle of the road. If you know what is wrong and how to fix the issue, you can easily avoid wasting precious time by towing your vehicle to the nearest garage (which at times, may be miles away).
However, in order to repair the car yourself, you would need the help of a tool called a hydraulic jack. A hydraulic jack is a strong, durable and portable tool that can easily lift your car during repair and fit into your car's trunk space when not in use. If you are interested in buying one, here are some of the best hydraulic jacks that can be used for home garages.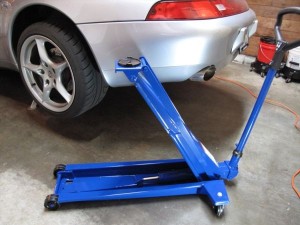 AC Hydraulic DK13HLQ Floor Jack
Priced at $549, this floor jack as a wide reach and is made of durable steel. The jack is 3.1 inches low and has a fast pedal, which is capable of lifting a vehicle up to 28.25 inches high quickly. All you need to do is press a pedal for the jack to lift your car. It can carry up to 2900 lbs, definitely the right choice for your Mercedes or BMW. The only hindrance is that the jack is too low and so, cannot be used for heavy vehicles.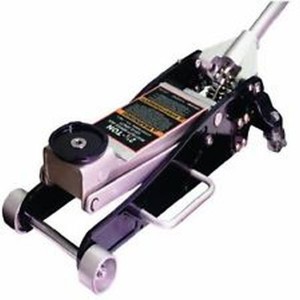 Torin 2.5 Ton Garage Jack
Priced at $89.99, this jack is made of strong steel and aluminum. The highlight of this jack is its unique removable saddle feature that would enable you to reach the maximum lift height of 18 ¼ inches in just seven strokes. The minimum lift height is 4 1/8 inches. The jack also sports a double sealing feature to prevent oil contamination and can carry loads of up to 5000 lbs. The side frame carrying handles also provide better grip over your car.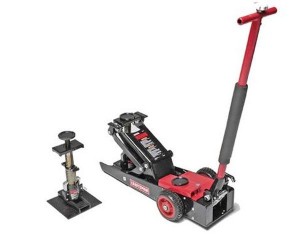 Craftsman Lift N Secure Jack System
Priced at $279.99, this car jack's USP is its double lifting parts that help elevate the vehicle comfortably. The jack is also portable and comes with tires, making it easier to roll under the car. The only hindrance is that it is not a low profile car jack and so, cannot be used for low sports cars.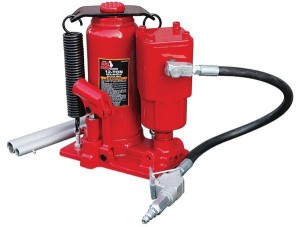 12 Ton Air Hydraulic Jack
Priced at $65.95, this car jack can carry over 12 tones of weight. An air-powered jack uses a manual handle for operation. The jack is more suited for heavy-duty vehicles and has a minimum and maximum lift height of 10 ¼ inches and 20 1/8 inches respectively. It also comes with a power switch and is capable of working on 120-200 PSI. Despite its strong features, the jack is light and portable.  It cannot be used for low profile vehicles though.