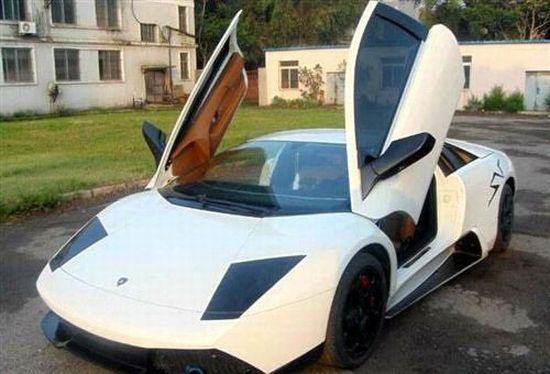 It was just a while ago we introduced you with some of the most amazing DIY cars ever created. Here is another one coming out from China, but this one takes the replica cars to a next level as the car is manufactured and is made available for those who want to drive one. 
Chinese have a great love for Italian bulls and they often come up with replica cars. It is due to mainly two facts. One, Lamborghini is one of the most expensive cars in the world and everyone cannot afford it. Secondly, the original models sold in China tend to break down too often due to the reasons unknown.
So, here we have another Lamborghini replica, this time it's Murcielago LP64. Normally, a Lamborghini Murcielago LP64 comes with a hefty price tag of well over $400,000. However, in China you can buy its alter ego for merely $65,000.
The best DIY Lambo from China ever, the replica car is a modified Toyota MR2. The level of craftsmanship on this Chinese version of Lamborghini is amazing and it's made in a workshop that has bookings open with an initial deposit of 210,000 Yuan. The possible buyers have to wait for more than five months to drive one home.
Coming to the technical specifications of this counterfeit Lamborghini, it can feature a 2.2-liter Toyota 5s or a 2.0 t 3S engine that will generate 175 hp and reaches 0-100 km/h in 9 seconds with its top speed at 200 km/h. The vehicle comes with many state of the art features that include power window, power wings, GPS navigation and backup camera. Adding more to the interior looks are real leather seats and leather interior. To the delight of the interested buyers, interiors of the car can also be designed as per customer needs.
On the other, if customer is looking for some original parts of the car, it costs extra like original rims cost 50,000 extra, new style of taillights costs 10,000 extra, and customer has to pay additional 9,000 Yuan for original key. The replica car is almost close to the real deal, but woefully it can't be registered or driven on official roads.
Via: China hush / Chinese-luxury