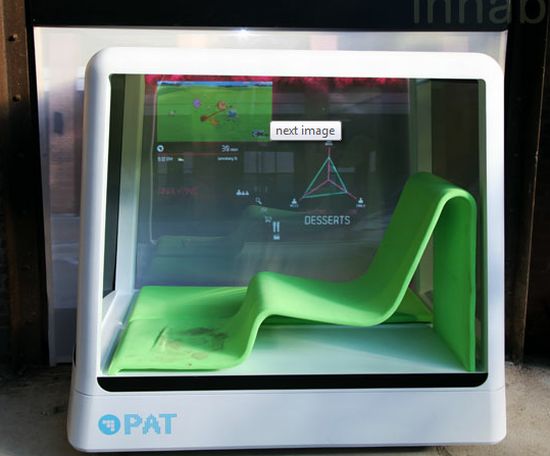 If we contemplate the future means of transportation, they are going to be different – be it design or technology wise. Vehicles in the times to come will reduce human interference, will be different look wise and of course, will have green credentials for sure.  
Meeting the expectations of the future is a design named P.A.T. – acronym for People and Things – Prototype created by Beyond the Car Team. P.A.T was showcased at Move which is a transportation expo held at the former brick factory as part of Cisco's Smart+Connected Communities showcase in Toronto.
P.A.T. has been imagined as cube shaped, driverless pod that will replace vehicles on the road by 2040. It can provide swift transport to two people at a time. The vehicle will be the part of a network of self-driven vehicles that will communicate with each other, thus avoiding collision and reducing congestion in the year where the population of Toronto is expected to go from current six to nine million.
With these features, P.A.T. is to eliminate the need of vehicle features like airbags, heavy vehicle bodies and crumple zones to name few and that way saving more space for passengers and luggage. Comfort has been kept in mind while delineating the concept and it features customizable seats that can be positioned upright or reclining and can also be lifted up or lowered.
On the top of this, you need not to necessarily own this vehicle and it can be called in the hour of need. The vehicle will have a run time of 80 minutes and we expect that will provide sustainable transportation. However, there is no word on the powertrain of the vehicle as of now.
Via: Inhabitat