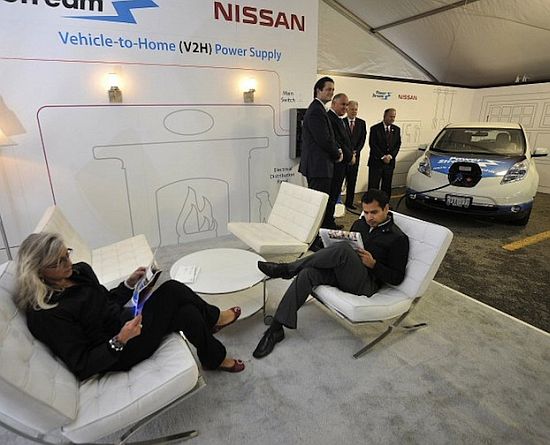 Aiming to woo eco minded customers or attract their fancies through their green initiative, Nichicon has moved beyond their earlier exploits. This time, the Japan based manufacturer of capacitors, circuit products, and other kinds of electronic components has turned over a new LEAF with the introduction of a two-way charger. Specifically designed for the Nissan Leaf, the innovative car charger powers the house during the evening hours aside from drawing juice from the home socket.
The car charger actually relies on the power grid to power Nissan Leaf. However, during the non peak hours, the car pays back the home owner. Since the electricity usage of the household goes down considerably, the owner may ask for rebate in power rate from the grid. Other uses may include harnessing wind and solar energy, which is a distant dream as of now.
This battery charger with advanced functionality can charge at twice the speed of conventional chargers. With the LEAF, to achieve an 80% charge with typical charging is said to require 8 hours. But with this charger it takes only about 4 hours. In addition, by returning power from the LEAF battery to the household, the power in the LEAF battery is enough to supply approximately two days' worth of power needs for a typical household.
The device measures 65cm (W) x 35cm (L) x 78.1cm (H), and can be accommodated in any home. Nichicon plans to release the device in July for an expected price of approximately 480,000 yen, or $6,000 without government subsidy. However, with subsidy included, the installation would cost somewhere around 330,000 yen including tax, or $4,100.

Via: Discovery