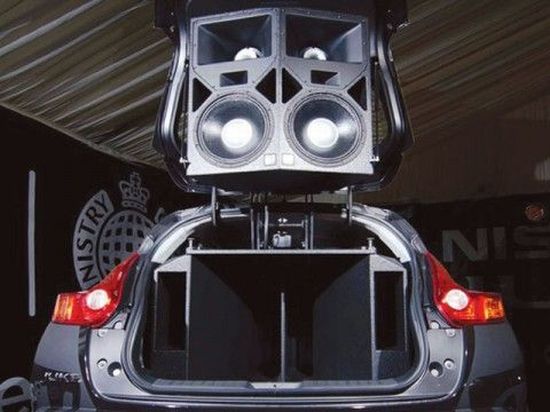 The collaboration between Nissan and Ministry of Sound has resulted in a sound system called Juke Box, which the duo claim is the most powerful sound system on road. Juke Box was unveiled at the 24 Hours of Le Mans this weekend and has a sound louder than a 747 taking off.
The most powerful mobile sound system in the world comprises not one but two Jukes and has been built with the tech support from Martin Audio. It can produce 150db of sound from 18,900 watts with the help of two Nissan Jukes fitted in with 18-inch subwoofers each and are further supported by mid and high-frequency speakers.
The most powerful sound system is the joint effort of Nissan, Ministry of Sound – a club that claims to be one of the best audio systems in the world – and Ministry of Sound introduced the Martin Audio (a team that designs systems for the club) to build custom cabinets, fix amps and speakers into the Jukes.
The three worked together to create a very new, unique loud system with high quality sound. The system can be hooked up to a mobile DJ van than playing music from either of the Juke's head units. Additionally, the Juke Box can be converted into to PA system and features with ambient lighting and a DJ booth to complete the whole package
Via: Cnet