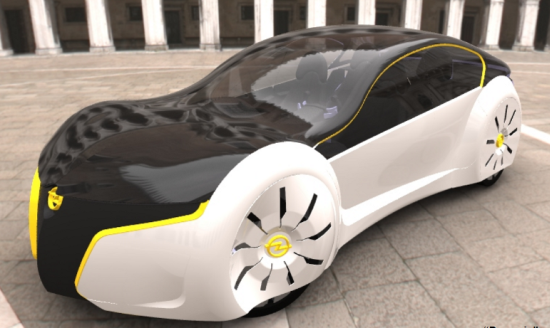 With the cramped out city space due to the increasing number of vehicles on road and rapidly drying sources of fossil fuels, we have to think as to how we will be commuting in future. Designers have already provided us some compact, green and easy to maintain vehicle concepts that can be vital in future scenario. Here comes another imagination from Victor Romero, industrial designer from Torino, Italy who has come up with Opel Ampera 2 concept for the year 2020. 
The range extending hybrid concept car has a very aggressive design language and its voluptuous stance added with curves and shapes adds more to its sporty looks. Victor has imagined Ampera 2 with the exterior dimensions of current Ampera, however, it comes with innovative material and solutions aimed at reducing the volume, weight and enhance the urban mobility at the same time.
The concept is powered by a smaller and isolated policombustible engine at front which is further supported by rear electric motor. The Ampera 2 concept measures 4.41 meters in length, 1.43 meters in height and 1.79 meters in width with its empty weight at 1300 kg. Although, the exterior measures are at par with current Ampera model, yet the concept is unique in one way or the other. It offers many personalization features that include colors, strips and many more to make it your very special car.
Opel Ampera 2 features movable color stripes, variable section air intake, flexible covers that allow wheels to turn inside the cover, better aerodynamics to suit the year it's been imagined for and different cover designs to choose from.
Other features that make it fit will in the year 2020 include an exterior style, which is independent from wheel size, blended seats that allow the occupants to change posture for that ultimate comfort, and wide sliding doors that offers good access to the space inside the car. With its stance and features that it offers at the moment surely makes it an ideal vehicle for the year 2020.