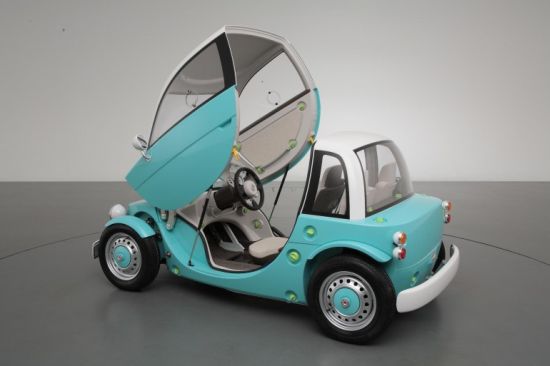 Auto industry has so far catered to the senses and passion of auto enthusiasts in one way or the other. However, there are rare examples of automakers coming up with something that kids can really rejoice and parents can really feel at ease with. Considering this thing, Toyota has designed what looks like a subcompact car, and actually it is, but it's been especially designed for the kids to drive around.
The concept car is named Camatte and is primarily aimed at bringing smiles on the faces of children and parents alike. The design and overall concept of the car keeps in mind the needs of kids. Consequently, Camatte concept has seat and pedals that can be adjusted to the extent that the child can accelerate and drive it with utmost ease.
Camatte takes the idea of kids' cars far beyond the power steering and modern day wheels. To make sure that the kids have the feel of driving and remember playing with it as a long cherishing childhood memory, the car features plastic body panels that could easily be taken off and placed back, thus allowing the children to change colors and customize the overall look of the car.
Offering a wide range of color and design combinations, Camatte measures 2,700mm X 1,300 mm X 1,200 mm for length, width and height respectively with a wheelbase of 1,200 mm that enables three people to seat in comfortably. In addition, to give better understanding of how a car actually works, Toyota has made the components of this vehicle to be easily and directly handled by children and families.
Camatte is just in a concept form and Toyota has remained tightlipped about its power figures and engine specifications that make its chances to hit the road even bleak. However, if it ever enters the production at all, it will surely make kids more enthusiastic about driving, as the younger generations are more inclined to tech things like laptops and smartphones.
Source: Toyota