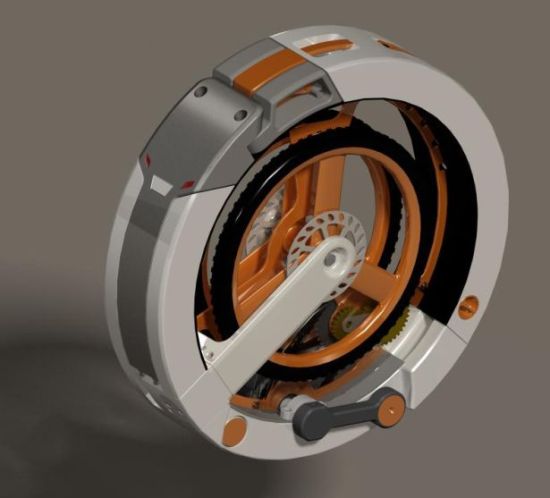 Bicycles have a cult following and has been in vogue from the time immemorial. With the passing of time, it took new shapes and some designers even went further to transform it into some unique, easy to use and dock it at the minimal space vehicles. As a result, the folding bikes came to the fore and gradually became the part of our life. However, some of the unique, real or concept, bicycles that you might have come across so far may not be as appealing as the one we are going to introduce you with at this moment of time.
Just have a look at the image above and you bet you will take it nothing more than a wheel. However, once you examine it minutely, you will be able to figure out that it's a neatly designed folding bike that is not only easy to port, fold but eye catching. Coming from the skilled hands of an Indian designer, Arvind M, who has given folding bikes a new definition, the folding bike is named Donut and is an excellent embodiment of creativity.
What makes this folding bicycle concept with circular aluminum alloy welded frame unique is its handle, saddle, pedals and the wheels that neatly fold inside the circular frame with no part of the bicycle extending outside the frame, thus making it easy to port in a car trunk, bus and train when you cannot or don't want to ride it. This bike has been imagined tough as the aluminum alloy welded frame is fully capable of bearing the weight of the rider and the front and the rear forks pivot to the circular frame and a tubular pedal slides as well as rotates inside the crank bar bearing.
On the other, chain and gear drives are imagined in a way that they ensure wheels rotate in the right direction and are smartly folded in the frame at the same time. Bike has the handle bar positioned at the top and afflicts least in carrying it. Further, folding bike has circular plastic enclosure, which is mounting on the circular frame and encircle the saddle, handle and pedals after folding.
Via: Designcot